Amsterdam optimistic of Guyana completing the double
By Delvon Mc Ewan
Adrian Amsterdam coach of the West Indies Cricket Board (WICB) Regional Under-19 three-day champions, Guyana, is optimistic of completing a double as his team sets eyes on securing the limited over title.
"The camp is upbeat after winning the three-day title and things will remain that way until we are successful at the end of the limited over version of the tournament", Amsterdam said in a telephone interview with Stabroek Sport.
The tournament, which commences today with three matches, will see Guyana facing the Leeward Islands at Enmore Community Development Centre ground, Barbados against Jamaica at Bourda Oval and ICC Americas tackling Trinidad & Tobago at Demerara Cricket Club.
However, in the three-day version, runners-up, Leewards was the only team that managed to bowled out Guyana twice and hold a first innings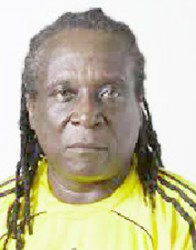 advantage against them. When asked if that would have any effects on his team, Amsterdam said it would not because it is a different version of cricket where there is more aggression adding that he believe his team is more aggressive and can win.
With a scoring rate of 3.2 throughout the longer version of the game Guyana will have to increase that to set competitive totals in the limited overs format.
"As it relates to the scoring rate, the players will have to transform their scoring abilities to end on the winning side."
Amsterdam is also confident that his team's all round ability will be sufficient to overpower any opponent as was evident in the three-day. He said in the bowling department the spinners are more effective than the pacers and his team will be relying heavily on the spinners to restrict opponents to small totals though the fast bowlers are not to be ruled out.
The Guyana team spent the last two days at the GCB La Bonne Intention facility (LBI) for indoor practice and at the Guyana National Industrial Corporation (GNIC) ground for outdoor training, working on their batting.
As regards the Guyana batting line up, the coach said there will be changes in the batting order and Tagenarine Chanderpaul, who will open the batting is expected to bat through the innings while the other batsmen will bat around him.
He said his side will use a similar approach as they did in the three-day but will make the changes that is needed for the shorter version.
The limited over tournament will run from today until the 15th August where the top two teams will compete in a finals at the Guyana National Stadium.
Most Read This Week