Jamaica's female world champion set for stern career test
KINGSTON, Jamaica, CMC- Jamaica's lone female world boxing champion, Alicia Ashley, is set to face one of the sternest test to her World Boxing Council super bantamweight title next month.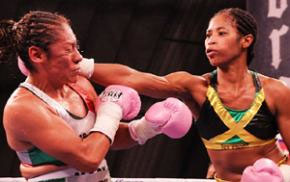 Ashley will fight the former World Boxing Association (WBA) champion Jackie Nava at the Mexico City Arena on September 6.
She has been champion since July 23, 2011 when she defeated Christina Ruiz for the then vacant title.
"This is a boxer that I have always wanted to fight. She is not the typical Mexican brawler," said Ashley.
"She is a skilled boxer who brings a lot to the table and I have really wanted to match my skills against hers. It will be a tough fight, but it will bring out the best in me."
Ashley has had three successful title defences and last fought on May 21, when she scored a sixth round technical knockout victory over Nohime Dennisson, in a non-title fight in New York.
Ashley will go into the fight with a 21-9-1 record, including three knockout victories while Nava has a 29-4-3 record with 13 knockouts.
"It is just a month away now, so for the next few weeks I will be working really hard. I am fortunate to have two good sparring partners working with me," said Ashley.
"They are fast, have good hand speed and are providing me with just the type of challenges that I need. I have to be in top condition for this fight and I promise you that I am going to be ready for it".