Scintillating performances on first day of Boyce/Jefford Classic
Despite a sprinkling of spectators and the intermittent showers, the first day of the fifth annual Boyce/Jefford Classic had some scintillating performances.
A few athletes that stood out yesterday at the Mackenzie Sports Club (MSC) ground were US based sprinter, Brenessa Thompson, T&T's Mark London, Grenada's Kenisha Pascal and local standouts Cleveland Ford and Winston George.
George easily won his 100m, 200m and 400m heats without even breaking a sweat.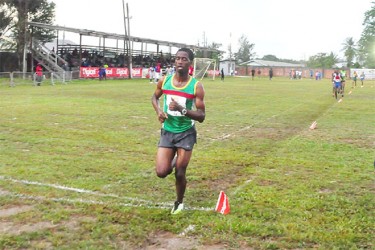 The 2012 Olympian is poised to claim a sprint triple in today's finals. London showed why he is a two-time CARIFTA Games gold medalist in the 800m event. He had the second fastest qualifying time (2m:02.70s) in the heats yesterday after cruising most of the event easily beating Trevor Scotland and Tyshon Bentick.
Kevin Bailey (2m:03.20s) turned on the jets in the final 200m to win heat two as did heat three winner, Ornesto Thomas who had the fastest qualifying time (2m:02.30s) yesterday.
Fresh off representing Guyana at the World Junior's, Thompson showed her class by qualifying for today's 100m and 200m final after powering out of the blocks and winning comfortably despite shutting down.
The 3000m women and the 5000m male races were the only final individual running events on Day One.
Pascal cruised to victory in the 3000m finishing the 10-lap event in 11m:34s for the gold medal. Janella Jonas won the silver medal crossing the line in 11 minutes and 49 seconds. Claiming bronze was Carlissa Atkinson with a time of 11 minutes and 53 seconds.
Forde upped the ante in the seventh lap and easily won the 5000m by approximately 80m.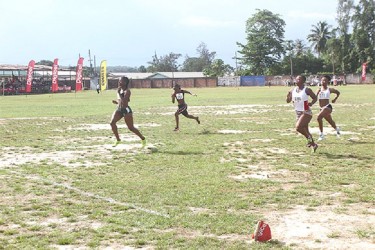 The 'Little Kenyan' (17 minutes and 45 seconds) led Grivon Grant (18m:12s) and Nathaniel Giddings (18m:13s) onto the podium.
On the field, the winners were:
Patrick King  (Men's Long Jump, 6.89m), Tracy Moses (Women's Long Jump, 4.94m ) and Natasha Alder (Women's Discus, 35.03m).
Day two (today) will see the finals of the middle distance races, the marquee individual sprints and relay events. The finals of the triple jump and the javelin events will also be contested.
According to officials, the Police Sports Club are in the lead on the team points table ahead of GDF and the Upper Demerara Schools.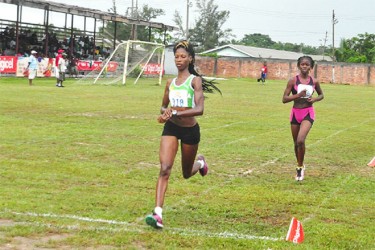 Action starts at 14:00hrs. (Emmerson Campbell)