GTA summer camps ends
-McCalman praises support of Squires, Daly-Ramdyhan
The fourth edition of the Diamond Tennis Club annual tennis camp concluded Sunday at the Guyana Bank Trade Industry (GBTI) court East Bank Demerara after two weekends of intense training.
The initiative of hosting the camp was a further commitment by GBTI to the sport of tennis as the entity fully sponsored the event.
The camp attracted 44 children ages 4-18 years old from Diamond and adjacent villages. The children benefited from the expert coaching of experience coach Philip Squires who showed patience and dedication to each student.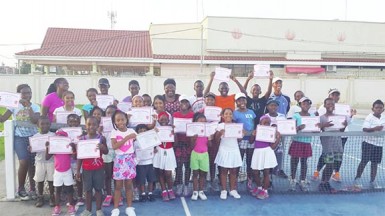 Although the camp lasted for four days the objective of the Guyana Lawn Tennis Association (GLTA) was to encourage the children to develop a bond and love for the sport. "It was established to introduce young players to the sport, create a healthy community and teach discipline as well as to have fun" stated Jamal Goodluck Public Relation Officer of the GLTA.
President of the Guyana Tennis Association (GTA) Grace McCalman in her remarks thanked National Coach Shelly Daly for offering her professional services to the club for the last five months to prepare for the official establishment of the club's junior programme. She told the parents that they received the utmost support from the former men's (Phillip Squires) and ladies champions (Daly-Ramdyhan) and there are expectations that future national champions will emerge.
Coordinator of the Tennis Camp, Squires, encouraged parents to get their children involved with sports as he reflected on his playing days and how becoming the men's Open champion for many years, provided him with a healthy safe alternative in representing Guyana abroad.