CHAMPS AGAIN!
Guyana retain men, women's team squash titles
Guyana's male and female squash teams yesterday won the team events at the 22nd senior Caribbean squash championships which ended yesterday in Barbados.
However the team missed out on being adjudged overall champions because although a veteran team did participate they were not awarded any points. Yesterday morning the Guyanese women edged Barbados 3-2 while the men whipped Trinidad 4-1 in the finals of the respective team events.
Against Barbados yesterday morning the Wiltshire siblings, Akeila and Larissa gave their team the perfect start with wins in the first two encounters.
Akeila defeated Alex Jordan 3-1 while Larissa whipped Muffin Stollmeyer 3-2 and though Barbados pulled one match back through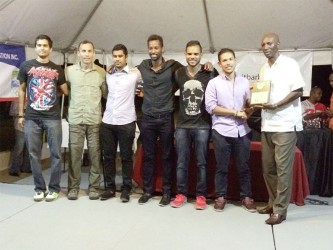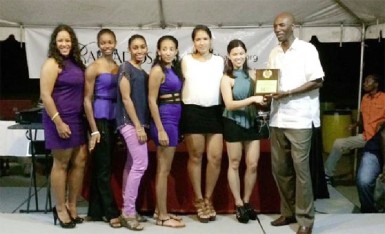 Caribbean women's singles champion Karen Meakins who again got the better of Mary Fung-A-Fat 3-1, Victoria Arjoon sealed the triumph with a straight sets win over Amanda Haywood (3-0). The fifth match a virtual dead rubber, saw Nadia Mc Carthy defeating Ashley De Groot 3-2.
In the men's final Alex Arjoon defeated Patrick Nku 3-0, Robert Mc David lost to Chase Mc Watt 0-3, Sunil Seth beat Colin Ramasra 3-1, Jason Ray Khalil beat Don Lee 3-1 and Richard Chin defeated Kale Wilson 3-0.
On Friday, Guyana clinched their berth to the male final, humbling the Organisation of Eastern Caribbean States by a 5-0 margin. Sunil Seth gave Guyana the early lead as he defeated Jules Snagg 7-11, 11-7, 11-6 and 11-5. Richard Chin would then make it 2-0 as he crushed Othniel Kevin Bailey 11-4, 11-6 and 11-7.
The win would then be clinched as Alex Arjoon brushed aside Kevin Hannaway 13-11, 11-5 and 11-5 in third matchup. Jason-Ray Khalil would further increase Guyana's lead, defeating Jason Doyle 13-11, 12-10 and 11-2.
Robert McDavid would then complete the clean sweep for the Guyanese as he defeated Romario Constance 11-6, 11-5 and 11-0.
On the distaff side, Guyana hammered Trinidad and Tobago by a 5-0 margin. Mary-Fung-A-Fat gave Guyana the perfect start, defeating Nakita Poon Kong after the latter retired hurt. Prior to Poon King retiring, Fung-A-Fat was leading 2-0 after winning the first two sets 11-2 and 11-3.
Ashley DeGroot would then increase their advantage as she overcame Faith Gillezeau 11-6, 1105, 9-11 and 11-0. The win would then be sealed in the third fixture as Akeila Wiltshire humbled Alexandria Yearwood 11-4, 11-3 and 11-2.
Victoria Arjoon then made it 4-0, hammering Marie Claire Barcant 11-9, 11-6 and 11-5. Guyana would then achieve the clean sweep in the final fixture as Larissa Wiltshire blanked Johanna Augutus 11-4, 11-2 and 11-2.