T&T in full support of Guyana over Caracas decree -Persad-Bissessar
Prime Minister of Trinidad and Tobago, Kamla Persad-Bissessar says her country is in full support of Guyana as it relates to recent decree made by Venezuelan President Nicolas Maduro over most of Guyana's exclusive economic zone, GINA reported this afternoon.
According to the Trinidadian Leader, the decree is illegal as it is clearly in contravention of the International Law of the Sea, and it is in this regard her country will remain steadfast to President David Granger's call to have the decree withdrawn.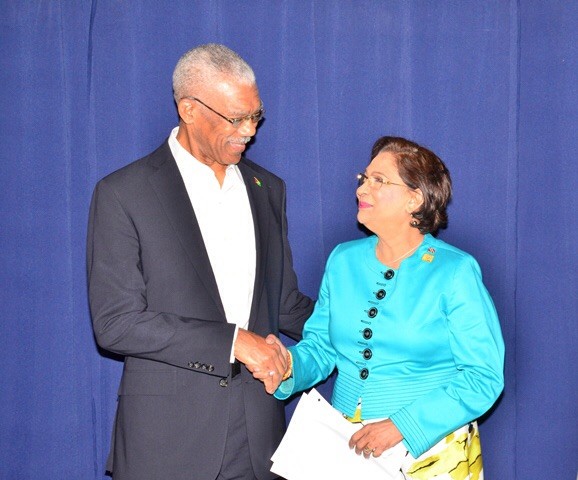 "Trinidad and Tobago fully supports Guyana with respect to the border (controversy). We have gone a step further, we have always had discussions with Guyana and we offered to assist in any way that we can by having dialogue at the bilateral or multilateral level."
Persad-Bissessar reiterated that at this point in time she is pleased to see the support being offered to Guyana, by the United Nations, the Commonwealth and CARICOM since the impact of the decree, GINA said.
"Guyana should find the support because it (the decree) is in violation of the rule of law, and we are looking at the impact on the Eastern Caribbean."
The Prime Minister pledged her country's continued support to Guyana and its newest oil exploration project.
Persad-Bissessar stated that she will be in talks with Venezuela with the aim of making dialogue possible with Guyana.
She stated that even though the situation seems to have gone beyond the point of dialogue, it is her belief that discussion is the best way, GINA reported.
The Venezuelan decree not only claims sea space belonging to Guyana, but also of Trinidad, Suriname and Barbados.