Two women remanded over Church's robbery
At the Vreed-en-Hoop court yesterday, two women were denied their pre-trial freedom when they appeared before Magistrate Crystal Lambert to answer robbery charges.
Maria Davidson, 28, was charged with four counts of armed robbery while Diana Peters, 48 both of Kaneville, East Bank Demerara faced charges of conspiracy to commit a robbery.
They were not required to plead to the indictable offences and are expected to return to court on November 6 for report and fixture.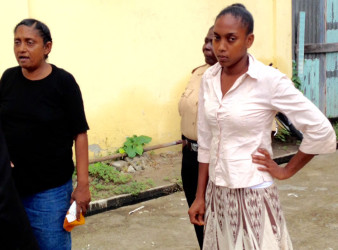 It is alleged that on Wednesday October 14 at Vreed-en-Hoop, Davidson, while in the company of others and armed with a gun, relieved Tessa Roberts of almost $167,000 property of Church's Chicken.
She also reportedly robbed: Colleen Vanderbelt of a cell phone valued $11,000, Shebiki Rodney of a Blackberry cell phone worth $25,000, Tessa Angus of a BLU cell phone valued $15,000 and Nadia Lo Hing of a Nokia cell phone costing $15,000.
The court also heard that between October 8 and 14, Peters conspired with Gary Beckles and others to rob Church's Chicken.
In objecting to bail, Corporal Jairam Lukhai prosecuting, argued that if granted bail, Davidson who worked at the Church's branch, would interfere with witnesses.
He also submitted that bail should be refused for both defendants because of the seriousness and prevalence of the offences.
The prosecutor further argued that other charges of a similar nature are likely to be laid against Peters.