Men must provide for their children
-President tells rededication of Seventh-day Adventist Church
"Men must provide for their children, they must become the cornerstones of happy homes. Men can help to raise happy families by showing respect and responsibility towards their wives and their children…", that's one of the messages that President David Granger delivered yesterday to the rededication of the Central Seventh-day Adventist Church.
A release from the Ministry of the Presidency said the rededication of the Church and Oronoque Sts place of worship is part of the activities to commemorate the 130th anniversary of Seventh-day Adventism in Guyana.
Granger congratulated the Guyana Conference of Seventh-day Adventists and urged the church to work to help strengthen the institution of the family by ensuring that men recognise and understand their responsibilities and that women are treated as equals, the release said.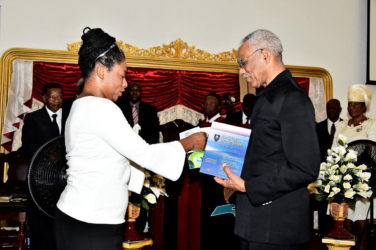 He made an impassioned plea for husbands and fathers to "recognise and respect the equality of women and to become more conscious of conduct; reminding them of how actions such as abandoning their children can lead to a complete collapse of the family and consequently, the society", the release reported him as saying.
"The family is cradle of live; the citadel of safety and the classroom of the culture of loving, sharing and forgiving… fatherhood and motherhood play complementary roles in family-hood. Happy families are the foundation of a happy nation. Happy families will lead to happy communities; happy communities will lead to strong regions and strong regions will build a strong nation," he said.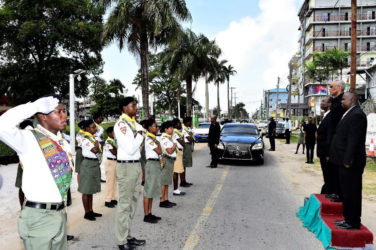 Speaking of the church, the President said that the determination and dedication of its pioneers over the past 130 years have made Adventism one of the leading Christian denominations in Guyana.
He said that as early as 1883, that International Tract and Missionary Society began dispatching religious literature to British Guiana and within the first 25 years of the introduction of Adventism, five churches were set up with Central SDA being the first in 1887. Today, he noted that there are a total of 216 SDA churches countrywide.
The release said that the President of the Guyana Conference of the SDA, Pastor Richard James commended the Head of State for his "unwavering" efforts to unify Guyanese. "We would like the President to know that we are praying that he will continue to keep the torch of unity and integration burning brilliantly in this dear land of Guyana," he said.