Trisco and Water Plant advance to round two
Banks DIH Ltd XM Inter Dept. Domino Championship
Trisco and Water Plant sealed their berths to the second round in the Banks DIH Limited XM Inter-Department Domino Championship, edging out Banks Females on the opening night at the Thirst Park Sports Club.
Trisco emerged the winner of the three way contest, racking up 76 games compared to Water Plant's 71 games. Banks Females finished on 64 games and were eliminated from the contest.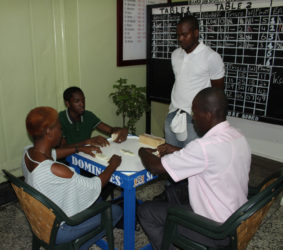 The opening round witnessed Trisco taking the lead, as they won 15 games compared to the 11 and eight of Water Plant and Banks Females respectively. Water Plant took the lead in the second round, scoring 15 games to lead with 26 points, as Trisco ended on 25 and Banks Females brought up the rear on 19.
Third place finishers in last year's edition, Water Plant ended their advantage in the third round, recording 18 games to end on 44. At this juncture, Trisco and Banks Females trailed at 34 and 27, respectively.
It was from this point that Trisco rallied to clinch the result, reducing the deficit in the fourth round after clinching 12 games to end on 46.
Water Plant concluded the round on 51, after only securing seven games while Banks Females claimed 12 games to reach 39 games.
Trisco then took the lead in the fifth round, registering 15 games to finish on 61.
Water Plant concluded the round on 60 while Banks Females narrowed the deficit on 53. Trisco completed the come from behind result, scoring 15 games once more compared to the 11 games recorded by Water Plant and Banks Females.
Meanwhile, Wholesale Liquor and Work Shop sealed their place in the second round, after Trisco Females pulled out of the contest in the opening match of the section. Similarly, Central Service and Security Department booked their respective berths in the next stage, after Distribution/ Warehouse also pulled out of the event.
The event which will be contested under the XM Rum brand and is slated to feature 21 teams, will be divided into three rounds. The top two teams from each matchup in round one will advance to the next round of the tournament.
Action in the event will continue tomorrow with the final night of round one. Essequibo Branch, Free Sellers and Berbice Branch will face-off in the first showdown, while Bartica Branch, Sales Department and Rum Factory will match skills in the second showdown.
The third contest will consist of Brewery, Linden Branch and Building Department. The eventual top three finishers in the tournament will receive trophies and medals.
The defending champion is Vehicle Workshop.