Photos and interviews by Sara Bharrat and Melissa Charles
We asked the man/woman in the street what they thought the country's national costume should be
Kay Pompey, Private Sector Employee:

'I know for sure if we were to have a national costume it would definitely have to have red in it because that's my favourite colour. Red, is bright, it catches the eye and it's sexy. Our national costume must be sexy and colourful so that we can fit in with the Caribbean family. I usually take part in the Mash float parade and the costumes we wear from year to year are great ideas to begin with and local designers should be given to opportunity to create a national costume for Guyana.'
Fazil Sultan, Network Technician:

'Guyana is a multicultural nation and therefore we need a good designer who understands the importance of balance to create a national costume that reflects all of our country's cultural background. We are known as the land of six peoples and I think our national costume should depict our six peoples and incorporate the five colours of our flag. The Ministry of Culture, Youth and Sport can create a website to accommodate things like these. That way everyone can go online and send in their suggestion.'
Seukumarie Jardine, Tutorial High Student:

'I think that our national costume should be very creative. Guyana is a land of many races and cultures so our national costume must in some way reflect all of them. For example, if we are to have a national costume that looked all Chinese or Indian or all Christian or Muslim then the other groups would feel left out. That is why it is very important that the costume be carefully balanced and designed by a talented and creative designer.'
Pam Prince, Self Employed:

'I've never really thought about a national costume for Guyana. But it should be something that any age group can wear and feel good in. The costume should shout Guyanese and let us display our country and express ourselves to the rest of the world. A good idea would be to use a set of standard colours and change the style of the costume every year. After all fashion trends change and the same standard thing would get outdated and boring after a while.'
Shermin Cambridge, Cosmetologist:

'The colours on our National flag are significant. They represent Guyana's people and natural resources and must be used to create our national costume. Our flag's five colours shout Guyana, it shouts Guyanese and people should know that the colours aren't only there because they look good together but because they represent something. We should definitely have a head dress, preferably a model of the head dress on our coat of arms. The material used to make our national costume should be a natural one produced in Guyana. We should strive to create something that reflects who we are and not reproduce a part of our culture after it has been influenced by the West.'
Renuka Mahadeo, Medical Technologist

'I think the shirt-jac is a national outfit for Guyanese men since it's a Guyanese thing really. It is difficult to say what should be worn by women. We copy so many North American styles that our traditional cultural outfits seem to be lost but the costume should depict our country's flora and fauna, maybe our waterfalls, it could be representing our three different religions or our coat of arms. I would imagine it printed with all or some of these features. I have seen some of the national costumes used by the girls in the beauty pageants to represent Guyana and I think they should be toned down a bit and one standard costume should be created.
Andrew Arthur, Hospital Coordinator

'Our national costume should reflect the multi-cultural aspect of our society. Although I am not sure what the design should be I think serious thought should be put into coming up with a specific design. A very good designer should probably be contracted to do a design to depict the wealth of the country or something along that line. You could probably have a Chinese headdress and an Indian Skirt maybe. I would prefer if the costume reflects our human resources rather than our natural ones since we are a country of diverse human resources.
Berry Moffett, Accounts Clerk

'The colours for our national costume should be standard but I think the design should vary every year especially when the girls use them in pageants. Well obviously costumes that give a good sense of coming from Guyana should be created. It must definitely have all our national colours. Because our national animal is a bird the costumes should have feathers. However I really can't help with the designs because I'm not a fashion expert.
Kevin Alexander, Painter

'This is not something I have ever thought about really but I think that our national costume should be very modern and should depict our numerous animals, our agricultural sector, maybe the Kaieteur Falls or our national buildings. The colours for the costume should be bold but I don't want the colours of the flag to be included because the flag already speaks for itself on the international scene.
Comments

By Mark Leonard LONDON – Over the last few weeks, media around the world have been saturated with stories about how technology is destroying politics.
CARACAS/HOUSTON (Reuters) – Venezuela's unraveling socialist government is increasingly turning to ally Russia for the cash and credit it needs to survive – and offering prized state-owned oil assets in return, sources familiar with the negotiations told Reuters.
By Carl Bildt CHICAGO – We are now in the final days of the industrial age.

During Men's Health Week, the man/woman in the street were asked to speak on their lifestyles and what they do to maintain their health or to encourage their significant others to lead healthy lifestyles.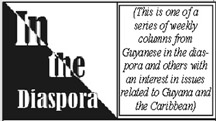 By The Caribbean Voice There are no reliable statistics on the amount of persons engaging in the use of illegal drugs or those described as addicts.