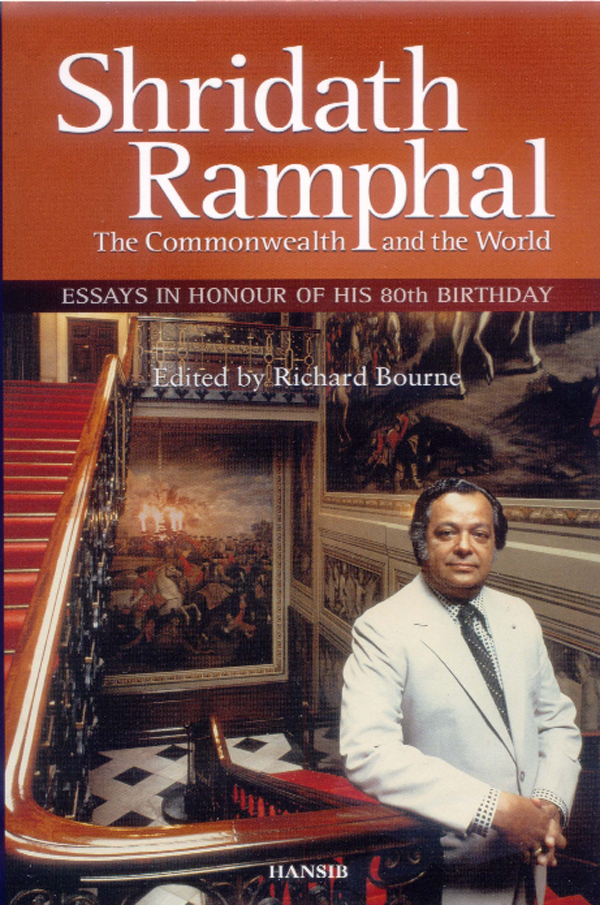 Richard Bourne (ed) Shridath Ramphal: The Commonwealth and the World. Essays in Honour of His 80th Birthday.  London: Hansib Publications Ltd., 2008. 206 pages. ISBN 978-1-906190-20-0.
That any person could be granted twenty-six honorary doctorate degrees; twenty-one national awards from various countries, including two knighthoods from the United Kingdom; chairmanship or membership of twenty independent commissions, councils, centres, institutes and foundations; chancellorship of three universities and visiting professorships at five, and be requested repeatedly to deliver keynote addresses and lectures at important international institutions and events is phenomenal. That these were all achieved by a man from Berbice, is astounding.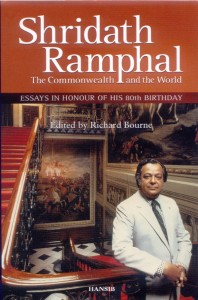 Shridath Ramphal is certainly one of the most able, accomplished and acclaimed Guyanese of all time. Like too many famous Guyanese, however, no biography has ever been written about him and, for more than thirty years, he has been better known and more greatly honoured in foreign countries than in his native land.
Sir Shridath Ramphal himself has attempted to fill the information gap by publishing several substantial anthologies − One World to Share:  Selected Speeches of the Commonwealth Secretary-General (1979); Inseparable Humanity: An Anthology of Reflections of Shridath Ramphal (1988); An End to Otherness: Commemorative Addresses by the Commonwealth Secretary-General (1990); Our Country, the Planet: Forging a Partnership for Survival (1992); and, No Island is an Island: Selected Speeches of Sir Shridath Ramphal (2000). There have also been innumerable monographs during his public life of over 50 years.
These works have expressed his ideas on a variety of topics but none has plumbed the depths of his personal philosophy or the wellsprings of his thought. Nor has any dealt comprehensively with his considerable contribution to Caribbean and Commonwealth diplomacy.
Richard Bourne's Shridath Ramphal: The Commonwealth and the World. Essays in Honour of His 80th Birthday published this year and launched during the Caribbean Festival of the Arts in Georgetown in advance of Ramphal's 80th birthday in October is not a biography. Nor is it a treatise on diplomacy which was the main mechanism and medium through which Ramphal worked. It is, instead, a tour d'horizon, a comprehensive but compact survey comprising a dozen essays, mostly by non-Guyanese and mostly about the last 33 years that Ramphal has been living and working outside of Guyana.
Bourne, the editor of this collection who serves as secretary to the London-Based Ramphal Centre Committee, writes that the book "is designed to throw light on the career of an energetic international statesman who spent crucial years with a poorly-understood network, the Commonwealth." He sees the book as "not just a tribute to a major international personality on his 80th birthday but a lasting contribution to contemporary history."
These essays, however, were not intended to be critical history. They were written by close colleagues and friends and are very likely to be highly subjective, even if unintentionally. Although they are a genuine historical source that provides invaluable insights and information, it would be unrealistic to expect an unbiased analysis of the achievements and a dispassionate appraisal of Ramphal's stewardship from them.
Bourne casts his editorial net very wide. The book's twelve chapters examine Ramphal's work both geographically, from a global and regional (eg, the Caribbean, Southern Africa and South Asia) perspective, and thematically, at the personal and organisational levels.  Each writer brings a peculiar perspective and style on a separate subject. This is refreshing but, occasionally, one chapter repeats some of what has been written in another chapter. More problematically, the stories occasionally drift off course, hardly mentioning Ramphal, but describing in detail the dreadful situations in trouble spots which abound in the African, Asian and Caribbean regions of the former British empire.
One of the editor's challenges, apart from collating these essays into a readable text, would have been elucidating Ramphal's world view rather than reciting reminiscences of episodes on the world stage. For one who has lived so long in the limelight, plaudits are inevitable. SK Rao describes Ramphal as "one of the greatest human beings of our times." Rex Nettleford writes of "his iconic intellectual stature." But the contest between subjectivity and historical objectivity, and between the needs for narration of information and the interpretation of signification, remains unresolved. The former should not smother the latter.
Patsy Robinson wrote one of the book's most delightful, insightful and useful chapters. Although the title of her chapter was 'Ramphal and the Independence of Zimbabwe,' the topic was really Ramphal's quest to foster "human equality and dignity everywhere" and, especially, in Rhodesia (now Zimbabwe) and South Africa where these universal values were most threatened.
All too briefly, but perceptively, Robinson explains Ramphal's diplomatic feats by exploring his Caribbean roots. She examines his education and the values of the generation to which he belonged as contributory factors to his thinking. His prior high-level participation in meetings of the Commonwealth, Non-Aligned Movement and UN Security Council, and his country's appointment as the first chairman of the UN Council for Namibia, for example, all shaped his world view. As a result, Robinson writes of Ramphal, he "brought to the service of the Commonwealth an unrivalled network of international contacts which would enable him to take the bold initiatives that characterised his 15 years at the helm of the world's uniquely internationalist grouping."
Anthony Payne's chapter 'Statesman of the West Indies' attempts to analyse that critical decade (1965-1975) of apprenticeship. But it misses Ramphal's roles in dealing with the dangerous territorial controversies, geopolitical challenges and economic exigencies which plunged the young state and its foreign ministry into the deep waters of international and regional diplomacy. The frenetic shuttle diplomacy, the reams of agreements; the endeavour to reconstruct the bases for regional cooperation; the opening new avenues for trade with the socialist states and the courageous foreign policy démarches of a small state were lessons not to be easily forgotten.
Ramphal's success in forging the Commonwealth into a powerful international organisation was achieved despite the disdain of heavyweights such as New Zealand's Prime Minister Robert Muldoon who said that he "should stick to taking the minutes," and of Britain's Foreign Secretary Lord Carrington who once swore that "he would swim the Atlantic to prevent Ramphal from becoming UN Secretary General," a post for which he was the hot favourite in the early eighties. Ramphal's candidacy for the world's most prestigious public office in 1981 foundered on the rocks of the petty antipathies of men like these.
The large lacuna in this book is the absence of analysis of Shridath Ramphal's idiosyncratic art of diplomacy. That this art had its roots in, and derived its rhythm from, Guyana and the Caribbean is an inescapable truth. Although, arguably, the book's subtitle suggests a focus on 'The Commonwealth and the World,' understanding Ramphal's performance after 1975 could best be achieved by undertaking an examination of the decade after 1965 during which he learned the craft of diplomacy.
Much of that craft, many of the contacts, most of the concerns and a good measure of his consciousness of the fragility of small states' security and economy grew out of regional, national, local and personal experiences that educated and equipped Ramphal for work in the global theatre. Guyana's diplomacy was forged in the foundry of survival. Ramphal's apprenticeship in statesmanship was hard but he was assisted by a talented team of extraordinary diplomats, attorneys and public servants in the Attorney General's Chambers and the Ministry of External (later Foreign) Affairs. Missing from this book are their testimonies which, as with the photographs of the period, have been largely airbrushed from the gallery.
At the heart of Ramphal's achievement was his unique art of diplomacy to which most writers have been obliged to refer though only tangentially. Success came from his mastery of summitry. He employed devices such as the 'Retreat Formula,' invented by Canada's Prime Minister Pierre Trudeau, to encourage Commonwealth leaders to meet and chat informally as a way of improving understanding and seeking solutions. He developed the technique of always being "ahead of the game by having a draft ready in [his] pocket to table at the right moment." He cultivated a formidable network of friendly leaders who were prepared to support certain policies and positions that enabled him to appear to outmanoeuvre his opponents. He used his eloquence to convince and persuade rather than confront in his ceaseless quest for consensus in the most controversial issues. These core elements of Ramphal's craft are mentioned but only desultorily.
Despite these shortcomings, Bourne's ambitious opus has attempted to touch on a wide range of topics which no person has written about in a holistic manner. There is much to admire and learn from the inspiring art of diplomacy that sprang from a remarkable statesman from a small Caribbean state. In this regard, this book has pointed to the direction for much more research into Shridath Ramphal's life and times. That would truly be a lasting contribution to contemporary history, but that must be another book.
Around the Web