Hundreds of kites took to the skies yesterday as Guyanese families flocked to the coastal areas and open spaces to celebrate another Easter, the season in the Christian calendar, which began on Sunday and marks the ascension of Jesus Christ.
There was a kaleidoscope of colours as kites of various shapes and sizes fought for supremacy. On the East Coast Highway from Turkeyen to the Kitty seawalls, families and friends gathered to picnic, fly their kites or just to 'chill out and have fun.' Happy faces were evident as Guyanese took the opportunity to enjoy the last day of the five-day holiday.
Cars lined the roadway, tents were pitched, children ran wild, squealing with delight as parents helped them to hoist their kites.
And the weather was quite co-operative. Two early drizzles had given way to bright sunshine with nary a cloud in sight. No one seemed to mind the blazing heat.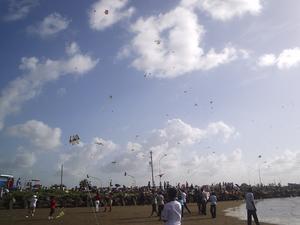 The usual kite-flying spots were packed, especially the National Park.
Sport was not excluded from the day's events as quite a few games of cricket and rounders were under way in the National Park when this newspaper visited. Some folks were even playing cards under the shade of trees in the park.
Of course, there was music, pulsating from cars, vans and big music sets around every corner, creating a difficulty as to what to listen to. But it seemed that those on their Easter outings knew just how to handle the music.
Fathers were champions of the day, rescuing tangled kites from out of trees and "doctoring" them as best as possible to go up again.
Notably missing this year were a lot of the big kites; people did not to take the time to create those spectacular 'big ones' as in previous years.
The creative touch was also missing as many people flew "bird kites" and locally made kites were remarkably absent.