By Heppilena Ferguson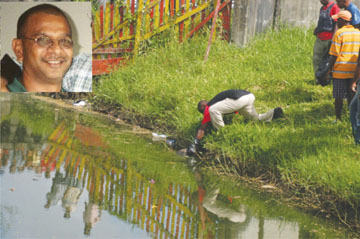 The partly decomposed head of Farouk Kalamadeen was yesterday morning discovered floating in a trench on North Road, just a corner away from his Jiffy Lubes store in Light Street, and the pathologist's examination later revealed that he had suffered blunt trauma to the back of the head and injuries to the mouth.
A post mortem examination on Thursday had determined that the man had died from possible decapitation.
The discovery was made just after 6 yesterday morning, around the same time his headless body had been found in Cowan Street, Kingston three days ago. Local residents who made the discovery and alerted police told Stabroek News yesterday that the head had been there since Wednesday, but they had not recognized what it was. A police press release yesterday stated that acting on information received from public-spirited citizens, at about 8.30 the police recovered the head in a trench at Albert Street and North Road, Georgetown.
The statement also said that the head had been examined by pathologist Dr Nehaul Singh who was of the view that Kalamadeen had suffered blunt trauma to the back of the head and injuries to the mouth. The police said investigations into this matter were continuing.
Dozens of residents and passersby crowded the area where the man's head was partly visible. The crowd forced the police to create a cordon with a vehicle at the corners of Oronoque and Albert Streets. The head lay in the corner of the trench closer to Albert than Oronoque Street. Many stared transfixed while police in plain clothes stood in the Meriman Mall and prevented persons from entering since there was a closer view from that vantage point.
As the crowd started to build up and more persons parked their vehicles to join the ranks of the spectators, a policeman in plain clothes started to cordon off the stretch of road just off Oronoque Street with yellow tape. He asked that persons move beyond the yellow line, but this met with much reluctance on the part of the crowd, and persons only moved briefly and then congregated again once porters of the Lyken Funeral Home arrived to fish the head out of the trench.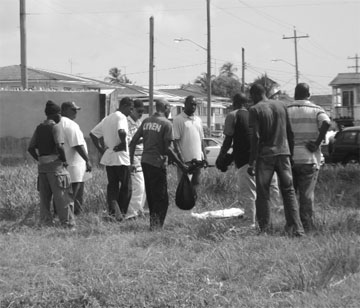 Wearing a pair of black gloves a porter was supported by two others who stood by with a black plastic bag in their hands. As the head was taken out of the water the smell of decomposition permeated the atmosphere, sending several persons scampering away holding their nostrils. The head was placed into the bag and then taken away by the porters.
Residents in the area were heard recounting that the strange object in the trench had been spotted earlier in the week but no one had paid it attention since according to one man, it "look like a turtle back."
A woman who said she had been one of those who had made the discovery told Stabroek News that the object started to attract extra attention recently and it was only when they ventured closer that they realized that the object was indeed a head.
"We saw the thing since around Wednesday time, but we didn't really pay it no mind and we even pass it off and say it was a turtle back," she said. She said too that when they realized what it was, the group of residents alerted a police vehicle, which happened to be passing.
The trench runs east to west and has not undergone any major desilting in a number of years, residents told Stabroek News. They said however that from time to time the Mayor and City Council would do surface cleaning, getting rid of food boxes and other objects.
Residents also said the delay in investigating the object was caused too by the fact that they seldom paid attention to what occurred in that section of the Merriman Mall since many drug addicts and homeless persons normally slept there under the trees.
A few of Kalamadeen's relatives who managed to look at the head after it had been taken from the water declared definitively that it was his.
Three women who were seen crying later told reporters that they were Kalamadeen's cousins and had only arrived here a day ago for his funeral, which was originally scheduled to have been held on Friday. One of the women, whom another relative identified only as Bibi, said she and the others were staying at a friend's house on North Road, and after realizing that a small crowd had started to gather, they became curious and came out.
"That's when we found out that it was his head, and at first I didn't have a good look, but then I saw that it is him," the woman said as she struggled to control her tears.
Other family members were also notified and Kalamadeen's son Irfaan who was on his way to Jiffy Lubes also noticed the crowd and stopped, Bibi Shadick the family's spokesperson and Kalamadeen's sister-in-law told this newspaper yesterday.
Added trauma
Even as Kalamadeen's relatives remained hopeful that the man's head would have been found, yesterday's discovery exposed them to further trauma.
"This morning [yesterday] it was added trauma because even though we were hopeful that we would get the head, now actually finding it renews the whole trauma, but we just want to get the whole funeral over with. We are thankful that we were able to get it," Shadick told this newspaper.
A possible motive for the man's brutal end remains unclear even to the law enforcement authorities, and relatives have acknowledged that many rumours abound. Shadick said hearing of the many different stories surrounding how Kalamadeen met his death had been hard for the family and now that the head had been found many new ones may abound.
However, she said, she hoped this put to rest some of the rumours and attempts by some to "feed on people's trauma."
According to her, relatives had not yet seen the police's autopsy report and she maintained that the man's body bore no obvious bruise marks. According to her, Kalamadeen's son who witnessed the post-mortem examination said there were two dark spots under one of his arms. She said there were no breakages on the skin although on one elbow there was a little scratch, which was also not an obvious wound.
Farouk Kalamadeen disappeared on April 2, while he was engaged in his usual morning jogging exercise on the Houston Public Road. Last Wednesday, his headless body was discovered in Cowan Street, Kingston and two searches by police and relatives in the nearby trench for his head proved fruitless. Relatives had also checked in the North Road canal, Shadick said, since the area was close to his business place. This search also was to no avail.
There has been no word from the police on any significant breakthrough in their probe although they questioned four men following the discovery of the body. Kalamadeen was alive for several weeks following his abduction.
The kidnapping of Kalamadeen and the discovery of his body generated a lot of interest both locally and in the Guyana diaspora.
Kalamadeen's remains will be laid to rest following Muslim rites today at 2 pm.
Around the Web