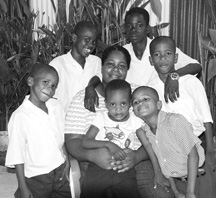 The prayers of mother of seven, Kendra Rehanna Haywood, have been answered and soon she and her sons will have a new home thanks to Food for the Poor.
Contacted yesterday, the woman who lost her husband Curtis Robertson two years ago after he was gunned down along with former minister of agriculture Satyadeow Sawh and others, said one day after a story about her was published in this newspaper the organisation contacted her.
In last Sunday's edition of this newspaper it was reported that the woman and her children were facing eviction as she had been sent a lawyer's letter giving her three months to vacate her Cross Street one-bedroom bottom flat. The woman had stated how depressed she was adding that although government had given her a piece of land at Parfait Harmonie she had no means of building a house.
She had also said that after she received the lawyer's letter, in desperation, she had written to President Bharrat Jagdeo asking for help and he had contacted her through an officer of his who had asked her to visit the Office of the President on Monday morning.
The woman said she visited with the officer and he had informed her that they had made contact with Food for the Poor after receiving the letter and were told that the organisation would have contacted them with a response.
But even before she attended that meeting on Monday morning, Haywood's spirits had been lifted as Food for the Poor had contacted her earlier that morning and asked to meet her yesterday. Haywood met representatives from the organisation yesterday morning and visited her land with a contractor. Construction of her home will begin next week.
Speaking to Stabroek News yesterday, Haywood was very elated that she and her seven sons would soon be living in their own home. She had stated that the area she is living in is not ideal for children and that she had wanted to move for a long time but had nowhere to go.
Haywood said that on Sunday she received calls from persons who found her number in the directory and even received a Mother's Day basket from one woman and foodstuff from other persons. She expressed gratitude for the support.
Many persons have expressed the desire to assist Haywood after reading about her plight.  Those who are interested in assisting her can contact her on telephone number 231-4260.
Around the Web