A 19-year-old construction worker who allegedly murdered Christopher Maloney, the son of city businesswoman Margaret Maloney, was taken before the Georgetown Magistrate's Court yesterday.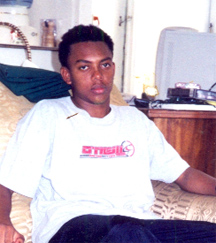 Harold Troy Critchlow of Road Head, Agricola, East Bank Demerara was not required to plead to the charge of murder when Principal Magistrate Melissa Robertson-Ogle read it to him.
It is alleged that on May 3 Critchlow murdered 21-year-old Christopher Maloney at 58 William Street, Kitty.
"I didn't kill anyone," Critchlow told the court.  He was remanded to prison and the matter will continue on May 30 in Court Five.
Stabroek News understands that Critchlow was arrested the night after the Maloney attack and was scheduled to appear before the court early last week. However, he was reportedly linked to an out-of-town crime and was held in custody until yesterday when he made his court appearance.
According to a police press release, at about 4:55 am Maloney was shot in the middle of his chest while trying to assist his mother, Margaret, who was being robbed by four masked gunmen.
The attack was well-planned as one of the gunmen was already seated in the back seat of Margaret's van, which was parked under a house next door to her William Street home, while the others were hiding nearby. Reports were that Margaret began to scream and this alerted a number of persons.
Steve Maloney, Christopher's uncle, had told this newspaper that Margaret's son and a relative ran downstairs to assist and as they came through the door, two shots were fired, one of which hit Christopher in his chest. The young man was already dead when he arrived at the Georgetown Public Hospital (GPH) at approximately 5:10 am, hospital sources had said.
Around the Web