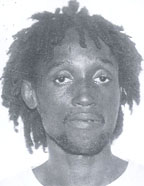 Two suspected members of the `Fineman' gang were killed by police 90 miles away from where they were thought to be cornered at Christmas Falls and law enforcers say they retrieved a large amount of ammunition and two bank cards belonging to slain Minister of Agriculture, Satyadeow Sawh.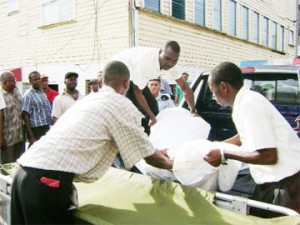 The exact circumstances of the deadly engagement and how many gunmen are still believed to be at large are unclear but there was no positive report on the whereabouts of Guyana's most wanted, Rondell `Fineman' Rawlins.
Crime Chief, Seelall Persaud said the criminals are running out of options and the end for them is near. He told Stabroek News in an invited comment last evening that there had been no further developments in the pursuit of the gunmen who first eluded them at Christmas Falls, two weeks ago and on Monday hijacked a minibus on the Aroaima trail.
Shortly after the hijacking of a busload of passengers travelling from Aroaima to Linden around 4 am Monday, Persaud said the joint services ranks picked up a suspect, a 14-year-old boy and later engaged two of the gunmen in a shootout during which both of them were killed.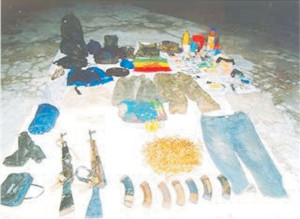 In a press release sent to Stabroek News just after midnight yesterday, the police said during the course of Monday ranks of a Joint Services team encountered two armed men in the Goat Farm area, Berbice River, which is between Aroaima and Kwakwani and located some 90 miles from Christmas Falls. Police said there was an exchange of gunfire during which the two men were shot and killed. Two AK-47 rifles and a quantity of ammunition have been recovered, the release said, adding that the Joint Services are working on information that others are in the area and are combing the area. Up to press time last night there was no positive identifications of the two dead men and Persaud said although the police had an idea who they are he would not speculate without official confirmation.
Reports are that the dead men are Cecil Simeon Ramcharran, 54, also known as 'Uncle Willie,' and a man identified as 'Chung Boy.' Both men's names appeared on a police wanted bulletin earlier this year in connection with several murders and robberies. The men's bodies were flown out from the jungle yesterday afternoon and are at the Georgetown Hospital mortuary awaiting autopsies.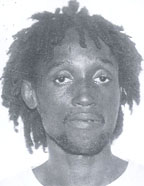 In a statement last evening the joint services said that along with the two AK 47 rifles, 781 7.62 x 39 rounds, nine AK-47 magazines, ten 16-gauge cartridges and eight 12-gauge cartridges were recovered by the Joint Services.
In addition a quantity of foodstuff, a variety of clothing, cellular phones, documents, basic medical supplies and other articles were found in their possession. These include: One Republic Bank Visa Card, one Canadian Bank Gold Card and one Bwee Miles Card in the name of Satyadeow Sawh. Further, the police recovered, one kerosene stove and cooking utensils, 11 GT&T cell phone chips, three Digicel cell phone chips; three cellular phones; two torchlights; one pocket radio; one Qu'ran; one New Testament, one Bible. The Joint Services added that it will continue operations in the area aimed at interdicting the other wanted men who managed to elude the security forces at Christmas Falls, Berbice River.
Asked about their operations now to capture the remaining gunmen, Persaud said the security forces were still executing their plan. He acknowledged that following Monday's hijacking of the minibus, the gunmen might be closer to civilization, but this he said would not deter ranks from pursuing them.
"We will go after them wherever the trail leads," Persaud declared.
Reports are that following the June 6 shoot-out at Christmas Falls where Otis' Mud-up' Fifee was killed, the gunmen numbering over ten split up into two groups. One of the groups was headed by Ramcharran, which from all accounts was intercepted following the hijacking.
Rawlins and another group of gunmen are said to have headed in another direction. Expressing optimism that Rawlins and the rest of the gang would be captured, Persaud told Stabroek News that all the signs are showing that his network was growing thin. He pointed out that over recent weeks the security forces had been able to haul in a number of suspects associated to the criminal gang Rawlins heads. "We are seeing high men in his organization going down and more and more we are capturing his men so it is clear the end for him is near," Persaud a senior superintendent declared.
Weighing in on the subject Home Affairs Minister, Clement Rohee said he did not expect the gunmen to give up although it is clear they have run out of time speed and space. Rohee said that more and more evidence was unfolding of the extent of the men's atrocities, noting the discovery of a credit card belonging to slain agriculture minister Sawh on one of the gunmen, the contents of Rawlins' diary and some of the confessions those detained have made. "So they will not give up," Rohee said when asked why the gunmen were still fighting, adding that the stakes were heavily stacked against them.
"The criminal enterprise being run by these men is slowly and surely dismantling…they are running out of time, speed and space," the Home Affairs Minister declared. Sawh, two of his siblings and a security guard were slain in the early hours of April 21, 2006. Police had pinned the killings on the Buxton/Agricola criminal gang and Rawlins and several others were named in a wanted bulletin. However, reports later surfaced that Sawh's killing was the work of a different architect, who might have contracted Rawlins' gang to execute it.
Pretended
Meanwhile, up to press time last night the driver of the minibus that was hijacked was still in police custody. Investigators who interviewed him told this newspaper that the man said he was on his way to Linden when the gunmen intercepted the vehicle and hijacked it. Stabroek News was told that the minibus with number plate BGG 501 had left the Aroaima compound at about 3 am Monday heading for Linden but returned at about 9:45 with the same passengers. Sources told Stabroek News that while on the trail, a teenager who appeared to be not older than 14 years old stopped the bus and pretended to be joining it when a group of other men approached the bus. The source said all the men were decked out in army-type clothing and wore bulletproof vests. The source said among items taken from the passengers, who included bauxite company workers and two babies, were their cellular phones and identification cards. Asked whether the teenager in custody was the person who flagged down the minibus, Persaud said no, adding that from what he was told the teenager was found in Ituni, several miles from the Aroaima trail where the minibus was hijacked.
On June 6 members of the joint services responding to intelligence reports that Rawlins and his men were hiding out at Christmas Falls some 300 miles up the Berbice River, descended on the forested area. Once there they came under fire from around seven men, one of whom was Fifee who was shot and killed. The other six men, including Rawlins however managed to escape leaving behind a cache of arms and ammunition, some of which has been confirmed by police as having been stolen from the Bartica Police station the night that community came under siege by gunmen. The security forces had also discovered that the men were housed in an area with four buildings. They had foodstuff to last several weeks in a large kitchen, which also had a gas stove, generator and solar energy. In addition, there were six portable tents, four hammocks, three mattresses, a mini-stereo system, a DVD player, a cell phone, a hand-held radio set, clothing, medical supplies and a Bible.
Around the Web