The visual arts component of this year's  Caribbean Festival of Arts (CARIFESTA X)  has received a significant boost from renowned Guyanese artist George Simon with his presentation of three murals which were unveiled on Monday at the National Cultural Centre (NCC).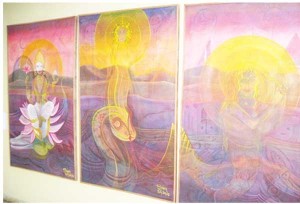 Simon, a member of the CARIFESTA visual arts committee and a Lokono artist from St Cuthbert's Mission,  is the mastermind behind the painting of the three murals.  Gangamai, a Hindu goddess; Oriyu, an Arawak word for mother of the snake; and Watermama represented by a mermaid, are all representations of "Universal Woman" according to Simon, the Government Information Agency (GINA) reported.
Simon explained that the three paintings are his way of paying homage to Guyana, the land of many waters, which in Amerindian mythology has many spirits. In this light, he said there must be regard for the spirits of nature.
Mermaids and anacondas, according to Simon, are significant Amazonian beings since they are goddesses or symbols of strength and energy. These beliefs, he added, are synonymous to Greek and Egyptian mythology.
"Amerindians consider the mountains, forests and the savannahs very special and are included in the paintings. . . there's the Stabroek Market and St George's Cathedral, Hindu temples and a mosque, just to remind us where we came from," Simon said.
Simon, who painted the first mural titled 'The divine relation between nature and man,' at the Umana Yana, credits his success to the CARIFESTA Secretariat which gave much recognition to this work.
The handing over was done during a simple ceremony in the lobby of the NCC and attended by Minister of Culture, Youth and Sport, Dr. Frank Anthony, Minister within the Ministry of Education Dr. Desrey Fox, Chief Executive Officer (CEO) of the CARIFESTA Secretariat Nigel Dharamlall, Coordinator of the visual arts committee Philbert Gajadar and Dean of the School of Humanities at the University of Guyana Al Creighton.
Minister Fox said Simon's work was an inspiration from the Amerindian perspective, put on canvas.
"From thinking spiritually, from the traditions of our Amerindian people a lot of what he has put on canvas can teach you about our spirituality. . . we think about spirits both in female and male form,"  Fox said.
She noted too that the concept of "Universal Woman" must be seen as a unifying influence in the way Amerindian traditions are interpreted. She also considers his work a real gift to CARIFESTA.
Around the Web