Former Minister of Economic Deve-lopment and General Secretary of the PNCR, Dr Kenneth King passed away at his Second Avenue, Subryanville home yesterday morning following a prolonged illness.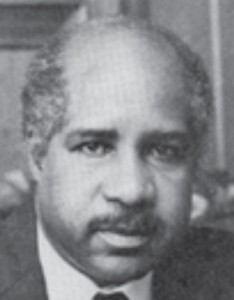 King led a distinguished life and considered himself a true statesman who believed that his country did a lot for him and felt obligated to always give back; his son Brian King said when Stabroek News visited the home yesterday afternoon. Dr King also served as Guyana's Ambassador to the European Union from 2002-2004 and was remembered as the man behind the Forbes Burnham Administration plan in 1972 to "feed, clothe and house" the nation by 1976. He also played a leading role in the drafting of the National Development Strategy under the PPP/Civic.
Audrey Spence who cared for King during his illness over the last 17 years, with tears in her eyes related that the man died peacefully in his sleep. She said some time last week King had started to recite his obituary to her. On Tuesday night he drank soup, had asked for juice and then he asked her to sit with him all night. Spence said yesterday morning around 10 she noticed that King's eyes appeared glossy and when she waved her hands in front of his face she got no response. She said she then alerted his doctor and called for an ambulance but by the time they came to the house he seemed to be asleep. The woman said King died around 10.45 am. He was 79-years-old.
Brian was proud to recount his father's achievements to this newspaper. He said his father had served in many international organizations including as Assistant Director General at the Food and Agricultural Organisation (FAO) headquarters in Rome. Describing his father as an ardent West Indies cricket fan, Brian said simply that, "he was just an incredible man, a great father, he was inspirational and set high standards, very attentive and extremely loving." King was also described as a lover of art, extremely proud of his heritage and mostly as committed to his country. "To me personally, he has left me with pride in myself, to be proud of my heritage," Brian added.
In January 2002 King was appointed Guyana's Ambassador to the European Union based in Brussels. He was also a former General Secretary of the People's National Congress and served as minister at various times during the PNC administration including as special adviser to late former President Desmond Hoyte. He was an economist by training and also worked for the United Nations Development Programme and other UN bodies. King was the holder of a Bachelors of Social Science Degree in Banking and Law from the University of London and a PhD from Oxford University.
Last evening the PNCR expressed its condolences to King's family. The party noted that Dr. King returned to FAO in the 70's after his stint as Minister of Economic Development and continued his international career. "But it was clear that he followed events from afar and was not reluctant to return to Guyana and served the Hoyte Administration in the late 80's and early 90's just when equally momentous events were taking place. He participated in the programme to free the Guyana economy and put it on a basis of a market economy underpinned by the attendant political and other freedoms. Dr. King was an important player in the shaping of the Economic Recovery Programme and other important economic developments.
"After the elections of 1992 he served the PNCR as General Secretary and a Member of Parliament. His participation in the latter forum was marked by informed and enlightened statements. His deep knowledge of economic matters enabled him to make apt observations (about) the economic direction of the country under the PPP Administration".
The party added "Dr. King was a truly patriotic Guyanese and his wide knowledge of international affairs and his grasp of complex economic matters will be missed. May his soul rest in peace!"
King was the second of five children born to his parents. He leaves to mourn three brothers and a sister, his daughter Karen King-Aribisala – the 2008 commonwealth Book Prize winner for the African region – and his grandson Femi.
Around the Web