A group of medical lab professionals have formed themselves into an association in an effort to address a number of problems facing their profession, including lack of visibility, workforce shortages and shrinking healthcare dollars.
The Guyana Society for Clinical Pathology was launched on Friday last with Yvette Irving as president and Dr Colin Roach the  vice-president.
According to the president, the new association has the mandate to ensure competency of medical laboratory  professionals through certification and accreditation. She said the association would strive to increase the visibility of the profession by focusing on the workforce shortage, the advancement of public health, and greater patient safety.
"The mechanisms are numerous and include reaching out to collaborate with healthcare providers and organisations outside the laboratory, and exploring new ways to interface with clinicians and patients.
The president in her speech at the launching at Hotel Tower, said that they need to change their tactics and tackle the issues identified by incorporating new and emerging technologies, coupled with a paradigm shift from disease management to health management.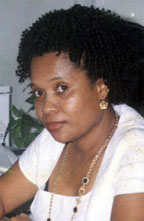 Irving, a laboratory scientist with over twenty years experience, noted that laboratory professionals perform sophisticated investigations on specimens taken from the human body and also evaluate the technical sufficiency of the investigations and their results.
"The results of these tests provide important information that doctors or other healthcare professionals need to make decisions about their patients' health," Irving said, concluding that laboratory technicians "are an important link in a patient's chain of quality healthcare."
She noted that new technologies are driving changes in how healthcare is delivered and, "ultimately, in how we define healthcare."
According to Irving, of prime interest are digital imaging, molecular diagnostics and informatics while noting that how those in her profession embrace the new technologies and developments will determine their role in healthcare delivery.
She told the gathering, which included Prime Minister Samuel Hinds and Minister of Health Dr Leslie Ramsammy that laboratory testing not only drives many diagnostic and treatment decisions but also makes up the majority of medical records.
"And it is the information most often requested from medical records," she said. She noted that historically, those with the best information get to be in the driver's seat when it comes to influencing decisions and in this regard successful medical technologists and medical laboratory  scientists have been helping to make decisions that will affect the future of the profession.
She told her colleagues that they need to work together for the benefit of their customers and they need to talk with their fellow healthcare colleagues, such as doctors and nurses to ensure that their customers enjoy the best quality healthcare nationally.
Around the Web