Guyana Prize for Literature 2002 winner Ruel Johnson is set to launch his second publication Fictions at the upcoming mega arts festival – Carifesta.
At 22, Johnson was the youngest writer ever awarded the Prize, for his work Ariadne and Other Stories. Also of note was the fact that he was born, raised and was residing in Guyana at the time he won the Prize, a rarity for recent winners. Six years on, Johnson still lives here and will present Fictions which comprises 20 short stories, to Guyana and a mixed Caribbean audience at the festival. In a recent interview he told Stabroek News that although he writes primarily for a Guyanese audience he believes that Guyanese and Caribbean nationals, particularly those from Caricom member states, share a number of similarities. Because of this he views persons from the Caribbean as his secondary audience which informed his decision to launch Fictions at the festival. Johnson said he has also planned a private launching, though he has only confirmed the date.
Johnson describes his latest publication as a much more mature work as he is now more aware of political and social issues. He said the stories contain "several political statements that obviously carry several social underpinnings." Yet, he said he did not do this from a firm ideological perspective; the stories simply reflect his new consciousness. The writer said he believes that literature can bring about change and he hopes his readers would be inspired to be "less racist than they are, less corrupt than they are and less numb to certain things as they are." Johnson said too his writings were influenced by many personal experiences and as such he is sure his readers would be able to empathise with some of the characters and their experiences.
In terms of style, Johnson says he has been inspired by several renowned writers. He named Argentine writer Jorge Luis Borges, St Lucian-born 1992 Nobel Literature Laureate Derek Walcott and Russian author Vladimir Nabokov as those who've had a great impact on his style. Johnson said he admires Borges's use of fables with high philosophical meaning and he tried to adapt them to his own work. He said too he named his book in tribute to Borges who authored a book titled Ficciones. Johnson said too he has tried to incorporate Walcott's style of adapting Greek mythology to his work and he has experimented with Nabakov's setting style in his publication.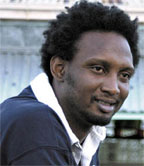 The young author said one of his stories was set in the interior of Guyana and another in Cayenne, the capital of French Guiana. He said his primary aim is for Fictions to stimulate healthy discussions as he does not expect every reader to agree with his points of view. However, he said he hopes that people are sufficiently interested that they would discuss it.
Johnson said it was only recently that he dedicated himself to writing Fictions, even leaving his job as a reporter at the Guyana Chronicle to better focus on his writing. He currently works out of the Oasis Café on Carmichael Street, which he says is part of a dream he had of being an author working out of a café. According to Johnson he made a decision to live in Guyana as a writer, – a decision he admits that he questions occasionally. Apart from writing, he also works as a free-lance journalist and as an editorial consultant yet Johnson says he is considering teaching as a new career or more accurately as an additional profession. If he does pursue this he plans to teach English Language and English Literature at a private school. His objectives he said would be to help develop the writing skills of youths as well as to foster an appreciation for literature among his students.
Johnson said he also dreams of hosting workshops for emerging writers. He said he hopes to be able to impart knowledge to small groups of about 10 to 20 young, talented and dedicated writers to help them to develop their skills. The idea is to make the workshops free but still competitive he said, adding that he believes that the nation suffers due to the shortage of programmes and infrastructure to encourage persons interested in writing.
And, while Johnson is pleased to be involved in Carifesta X, he is yet to be convinced of the nation's readiness to host the event. He told this newspaper that he fears the country is still unprepared and would be embarrassed citing that the Carifesta Secretariat was yet to set the date for the launching of his book. Johnson said he had been involved in Carifesta celebrations held in Trinidad in 2006, and that he loves the concept but he believes local organisers have failed to do the festival justice. He is also critical of the media for doing what he says is a poor job of promoting the event. Despite all this, Johnson said he hopes that the festival is a success.
Around the Web