A woman collapsed on the stairs of the Georgetown Magistrate's Court yesterday at around 9:40 am and was later pronounced dead on arrival at the Georgetown Public Hospital.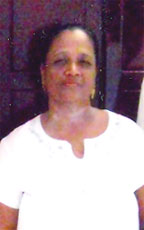 Fifty-eight-year-old Indra Ramsingh, of 115 Grove Housing Scheme, East Bank Demerara had just entered the court yard. She had gone to court for a relative's case.
When Ramsingh got there she was reportedly standing at the bottom of the stairs. Office assistant at the Magistrate's Court, Terry Defreitas, told Stabroek News that he was on his way up the left stairway escorting a Magistrate when he saw Ramsingh holding on to the banister and slumping to the ground. He said that he immediately rushed over to her to enquire what the problem was. He said that she was hardly breathing and after a while he shouted for help. Police officers who were in the court yard immediately gathered around to render assistance. A police officer had checked Ramsingh's bag for some sort of identification and stumbled upon her asthma inhaler.
Defreitas said that he checked her pulse but wasn't feeling anything. He went on to say that he ran into his office where he got methylated spirits, Limacol and shilling oil and ran back out to apply it her face but got no response.
"I suspected she was dead but I still held on to her in case my speculations were wrong" Defreitas said. Constable 200034 Barker who was also on the scene sent for a vehicle for Ramsingh to be taken to the hospital. Taxi number HB 1519 arrived soon on the scene and Barker along with the other policemen lifted Ramsingh into the car. They soon sped away to the Georgetown Public Hospital where Ramsingh was pronounced dead on arrival.
Ramsingh's earrings were still on the ground where she collapsed when Stabroek News arrived on the scene.
When Stabroek News visited Ramsingh's home, her family members were in a state of shock and despair about the incident. Ramsingh's nephew, Roy Anthony Simmons, 32, who lived with her related that she was a bit upset about the case against her relative and she had suffered from hypertension. He said that Ramsingh was usually a jolly person and that though she suffered from asthma, she had no attacks lately. He said that she left around 8 am yesterday to go to the Providence Magistrate's Court for the case but was then directed to the Georgetown court.
"She was like a mother to all a we", a relative, Chanderka Gopichan said.  She said the family is awaiting Ramsingh's brother from Canada who would be able to verify when she would be buried. (Ayanna Blair)
Around the Web