Sir George Alleyne, Chancellor of the University of the West Indies (UWI), will receive the Science of Peace Award and deliver a lecture on 'Peace, Pandemics and Pluralism' on October 17 in Barbados. He is the first Caribbean citizen to do so.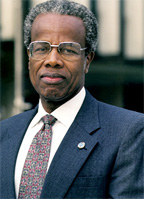 According to a PRMR press release, the Faculty of Medical Sciences of the University of the West Indies, will host the prestigious Inter American Heart Foundation's (IAHF) Science of Peace lecture and award ceremony at the Sherbourne Conference Centre. This will form part of the Healthy Caribbean 2008 Conference being held in Barbados from October 16 to 18.
The Science of Peace lecture and award was founded in 1993 in honour of the work of Dr Paul Dudley White of the United States and Dr Renѐ Favaloro of Argentina. Both saw health as a human right and paid particular attention to the social and economic context in which cardiovascular disease occurs.
The IAHF was established in 1992 and consists of a network of heart foundations, heart societies, tobacco control organizations, national resuscitation councils, and other organisations across Latin America and the Caribbean. Its mission is "to reduce disability and death from cardiovascular diseases and stroke in the Americas". The head office is in Dallas, Texas, and there is a Caribbean office in Jamaica, with additional regional offices in Argentina and Mexico.
Sir George, a native of Barbados, was Director of the PAHO/WHO Regional Office until 2003 when  he was appointed UN Special Envoy for HIV/AIDS in the Caribbean. That same year too, he was appointed Chancellor of UWI.
Around the Web