The man detained by police following the fatal robbery on Monday at Canal Number Two remains in custody while it has been revealed that the telephone at the La Grange Police Station was not functioning at the time of the attack.
In the early hours of Monday morning, bandits struck at a Conservancy Dam, Canal Number Two, West Bank Demerara home, tightly trussing the three female occupants, including 68-year-old Budhia, who died during the course of the hour-long incident.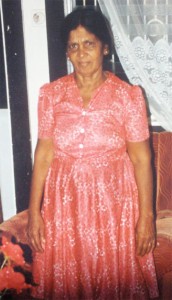 The two other occupants, Basmattie Rampersaud and her daughter Shivanie were also tied up and the family was relieved of more than $1M in cash and jewellery.
The Rampersauds had told this newspaper that immediately after the incident, 911 calls were not answered and telephone calls to the La Grange Police Station went unanswered. They had said that, after eventually being contacted, the police took about 45 minutes to arrive.
Yesterday, Police District Commander, Paulette Morrison told Stabroek News that the telephone at the La Grange Police Station was not functioning at the time of the incident. She said that the Guyana Power and Light (GPL) had earlier carried out some works in the area and the line had been damaged. Relatives, who had stopped at that station, had also stated that it was in darkness.
Questioned about the police response time, the commander said that ranks from the Wales Police station had responded and were there within 15-20 minutes. She pointed out too the distance from Wales to the Conservancy at the end of Canal Number Two. She noted that in some divisions, including hers, 911 calls made from cellular phones would have been routed to another station, such as the Brickdam Police station.
Last week Tuesday, following another robbery at Tuschen, during which criticisms were also levelled at the police with regards to their response time, the Police Office of Professional Res-ponsibility (OPR) had said that an investigation was to be undertaken. On that day, a gang of bandits, all armed with guns stormed the Chaitram family's Tuschen Old Road home, which also houses a grocery, and robbed the family of over $6M in cash and jewellery before escaping.
During the incident, 55-year-old Chaitram was severely beaten by the gunmen while his brother, Balgobin Patiram, who was in the neighbouring yard, was grazed on his right hip by a bullet. After ransacking the home for over 20 minutes the bandits escaped in a white car they had arrived in.
Relatives had said that the police had arrived an hour after the 6:30 pm attack and calls to the 911 system went unanswered.
The Divisional Comman-der said yesterday that the OPR investigation had established that the police response time was less that an hour. She stated that neighbours had attested to this.