An alleged robbery victim, his girlfriend and the taxi driver who delivered a fatally wounded gunman to the Georgetown Public Hospital (GPH) on Monday night are still in police custody in relation to a robbery committed in Meadow Brook Gardens that night.
Police in a press statement last evening said they were investigating an armed robbery, which occurred at approximately 8.15 pm on Monday in Meadow Brook Gardens. During the robbery, they said, one of the four bandits was shot by homeowner, Ian Bruce, who is a licensed firearm holder.
Investigations, the police said, revealed that Bruce along with his wife and two male friends, Vernon Forest and Roy Carrington, were on the verandah when they were confronted by the four men, three of whom were armed with handguns.
The robbers were able to relieve their victims of two cellular phones and $6,000 cash, the police said. However, while this was happening, Bruce managed to get his firearm and discharged one round at a bandit fatally wounding him in the abdomen. The dead man has since been identified as 20-year-old Raheem Lewis called 'Muslim'.
The press statement further said that the four men managed to escape and subsequent investigations led to the discovery of Lewis at the GPH where he was pronounced dead on arrival. Lewis had been taken to the hospital by a taxi driver.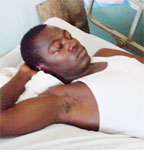 Further, the police said, while at the hospital they discovered Michael Reid, 23, of 193 Bamboo Drive, Meadow Brook Gardens who was taken there after sustaining a gunshot wound to his left upper thigh.
"The circumstances surrounding his injury are not yet clear, but he has been identified as one of the four bandits by the victims," the police stated. Reid is under guard at GPH and the police have arrested a man and a woman.
Reid, who said he was attacked and robbed by two gunmen on Monday night, is denying allegations made by the victims that he was one of the four men who attempted to rob the Meadow Brook Drive home that same night.
Bruce said that one of his attackers, in an attempt to conceal his weapon, had accidentally shot himself in the groin.
Reid told this newspaper that the police have been questioning him repeatedly. "They keep telling me that 'we know you friend dead' but all I telling them is that me ain't know anybody," he explained.
The man explained to Stabroek News that he and his girlfriend, 18-year-old Shenella Patterson, were walking to a nearby shop shortly before 10 pm, when they were attacked by two men, one of whom was armed with a gun.
"After de men come up to me I get nervous… they tell us to hand over our phones… I pushed de man with the gun and that is when I get shoot," Reid explained. He said he was shot in the left upper thigh.
The men then fled the scene on foot, Reid said. Patterson sustained no injury and she alerted a nearby friend who transported them to the GPH in his car.
"A neighbour come telling me about the incident just after 10 pm…[on Monday] and say that somebody already gone with he to the hospital," the man's mother, Joy Reid, said.
The woman said she and other relatives immediately went to the hospital, where they discovered that Patterson had already been taken into police custody. They were told by police that she was an accomplice to a robbery in Meadow Brook Gardens.
Patterson, according to Joy, was kept in custody at the Brickdam Police Station on Monday night and they were informed yesterday that she was placed on $50,000 station bail. Up to press time last night, the young woman's bail had not been posted.
"He is a victim…not a robber. He is a decent, hard-working man," Joy said of her son.
Reid's mother also explained that they were informed by police that he was identified as one of the attackers by the victims. Joy said that she left her Bamboo Drive home, which is a few corners away from Bruce's, and confronted the man yesterday around 11.30 am.
The woman said she and some relatives asked Bruce whether he, his wife or friends had identified her son as one of the attackers. "He asked me whether it was the dead man," Joy said. "We told him no and then he said that he 'doesn't know anything about that'."
When this newspaper visited Bruce's home shortly after 1 pm yesterday the man refused comment on the matter. All he said was that he was "upset" that the media had broadcast his name and address and as a result, he was now at risk.
The taxi driver
The taxi driver who transported Lewis to the hospital on Monday night, according to his colleagues who wish to remain anonymous, was still in police custody late last evening.
On Monday night, the driver had told Stabroek News that he was contacted by his dispatcher and told to do a pick-up in Meadow Brook Drive. He explained that as he was nearing his pick-up point he heard a man call out to him, "this is your pick-up".
Assuming that it was that person who had called the taxi, the driver stopped.
"He was bleeding when he come in the car," the driver explained. "…so I rush with him to the hospital."
On arrival at the hospital with Lewis, who had by that time expired in the back seat of his car, the taxi driver was detained by the police for questioning.
Clearly distressed, the taxi driver had said that he was only doing his job. "I learn my lesson now," he said. "Innocent people will have to suffer now because I won't pick up bleeding people now unless I know why they're in that state."
When contacted, the taxi service dispatcher who was on duty at the time refused to comment on the matter. However, this newspaper understands that the dispatcher and other workers were summoned to the Brickdam Police Station for questioning yesterday.
At her Plaisance, East Coast Demerara home yesterday, Lewis's mother said that she wasn't sure what to say about the whole thing.
The woman and her relatives had arrived at the GPH on Monday night to identify the body of her son and loud cries were heard then.
"I wasn't there so I can't say what did or didn't happen," Lewis's mother said. "I don't know what to say… I am shocked. I am standing here thinking that he'll walk through the door anytime.
"Whatever I tell you, people will think that I am only saying that because I am his mother. But I know how I brought my children up and he used to be a good child," she said.
When asked what advice she would give to mothers who may be faced with a similar situation the woman replied: "Peer pressure is something terrible…when your children go out you don't know with who or what they will do. People say that parents know and encourage these wrong things but we don't. That night he left, I didn't ask where he was going because he is a big man. As a mother all I could do was talk to him."
Around the Web