Founder and Editor-in-Chief of the Stabroek News, David de Caires was yesterday remembered as a man who transcended his place in society to touch many lives.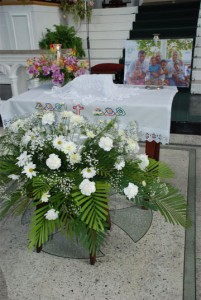 At a memorial service at the Cathedral of the Immaculate Conception, de Caires was celebrated for his unwavering activism as a campaigner for social justice and press freedom, and using his principles to influence practical change.
De Caires passed away in Barbados a week ago at age 70. He was later cremated there. Hundreds of people from a cross-section of society turned out yesterday to remember him at the special service. De Caires was many different things to many different people, an idea reinforced by members of the government, political parties, the private sector as well as civil society who were among those in attendance.
Brendan de Caires said although his father grew up in a cloistered world, he had cultivated a variety of friendships throughout his life. In an emotion-filled appreciation, he added that his father transcended class, race and religion in his role as an advocate for press freedom, although he had the law as an easy escape. He explained that his father was afraid that he might have expended his energies early in life, before embracing his real passion with the newspaper. "I know if he were here today he would be much less terrified, and much more hopeful," he said, while observing the people who gathered across various divides.
But while de Caires earned respect as a fierce campaigner for press freedom, Brendan de Caires cautioned against remembering him simply as an advocate of abstract concepts. He reminded that freedom of speech is a meaningless gift if it cannot be used for a transformative purpose.
In this vein, he said his father took "enormous pleasure" in facilitating a national conversation in the letters pages of the newspaper.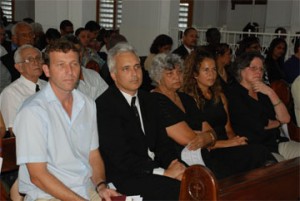 De Caires' close friend Miles Fitzpatrick, delivering the eulogy, also paid tribute to his life and work. According to Fitzpatrick, de Caires, who was known to his friends as 'Dex,' possessed an indefatigable commitment to social justice. He said his mission would find a legacy in the Stabroek News. "In this holy place above all others it is easy to recognise the power of an idea and its capacity to survive its creator. David's paper will survive him. More importantly, its sense of mission will survive him, in and through the days ahead," he said. "And every time I pick up the Stabroek News I will remember the good times and the bad times, the man he was and the people he touched."
The two shared a practice for some thirty years. They were introduced around 1959 and quickly formed a friendship based on shared similar interests, including horse racing and music. They were particularly fans of the composers of standards like Irving Berlin, George Gershwin, Cole Porter and Noël Coward, as well as jazz, with de Caires having a special fondness for Miles Davis. But even amidst their Saturday nights at the Carib Hotel, where they would drink and dance with friends, Fitzpatrick said they talked about 'politics, politics, politics.' De Caires would later become a founding member of The United Force and an ardent admirer of Peter D'Aguiar, while Fitzpatrick was a Marxist and joined the PPP. "Our arguments always took the same course," he recounted. "We started from diametrically opposite positions and then sought a common ground that we could only vaguely define."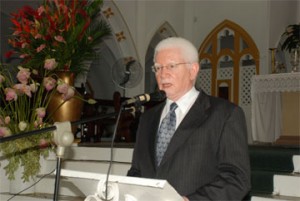 Enter Lloyd Best, who became their intellectual mentor and influenced their involvement in the New World Quarterly, which was first published in British Guiana in 1963. Fitzpatrick called it a "cathartic event" and one that influenced de Caires to produce the New World Fortnightly after Best left Guyana. "Looking back now I realize that the creation of Stabroek News became inevitable after New World Fortnightly closed. Those were days of hope, argument, creation and fun," he said, while recalling the exploits of the New World team  on the football field at what is now Camp Ayanganna. "The thought has occurred to me that we might have always had honest elections if Camp Ayanganna remained a playing field."
Fitzpatrick said de Caires' trademark fearlessness in the fight for social justice was demonstrated as early as 1968, when the pair joined Pat Thompson on air during a live Radio Demerara/GBS broadcast to announce election results. He said it was their sad introduction to rigged elections. He recalled that panelists and listeners were dumbfounded when the time came for them to analyze the results for the Mackenzie constituency, where 117% of registered voters cast their ballots. "We called the election rigged on the government radio station. The next morning when bleary eyed we got to the office we got a personal phone call from the great man. Like Queen Victoria, he was not amused!"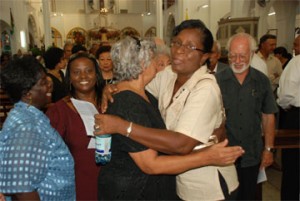 Although they were lawyers, Fitzpatrick noted that their office was never exclusively dedicated to the practice. And during 1978 campaign against referendum, it housed many meetings of the anti-referendum, civil society groups, including lawyers, doctors, architects and engineers as well as trade unionists. He noted that on the eve of the referendum, representatives of all the groups met with representatives of the opposition parties and agreed on a united call to boycott. He called it the most complete boycott he has ever experienced.
De Caires' principles and activism later found expression in the Stabroek News, where Fitzpatrick observed that his friend sought to create a forum for expression, with no letter too humble or radical to be published. At the same time, de Caires insisted that the Stabroek News uphold the tradition of being a paper of record, with an emphasis on accuracy and fairness. Election Day in 1992 would successful test this principle, though Fitzpatrick said it might not have been had de Caires taken his advice and gave in to his fears. It was a very insecure day for the newspaper, he recalled, when groups of people walked pass its offices shouting and threatening on the way to the elections commission. The night was much worse with a sizeable and angry crowd building up during the late afternoon, demanding that they be allowed to vote at the commission. Hostilities intensified and Fitzpatrick said he was concerned about the safety of the Stabroek News and its staff. "Everyone was worried, but all were working," he said, adding that he advised that they evacuate. de Caires later told his staff that he was staying, but anyone else would be free to leave and he pledged to respect their decision. Only two people did, for exceptional reasons. "The result was one of the best issues of Stabroek News ever produced," he said, "On that night Stabroek News truly became a 'paper of record.'"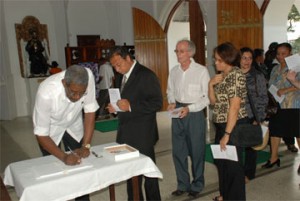 The newspaper's reportage on the Guyana Elections Commission in the lead up to the 1992 polls was also credited for helping to lead to the reforms in the selection process, the "Carter formula," which is still used today.  Fitzpatrick said: "The relentless and fearless reporting of Stabroek News helped provide the foundation that made change possible. President Carter, Rudy Collins and President Hoyte by both commission and omission, were the midwives to the birth of electoral democracy in Guyana; and Cheddi Jagan was its proud father. But Stabroek News provided the ambulance!"
Fitzpatrick also read a tribute from de Caires' friend Neville Trotz, who recounted the "enriching experiences" they shared through the years with a group of friends that included Fitzpatrick, Joey King, Lloyd Best, Syl Lowhar, Frank Solomon and Clairmont Moore. Among their exploits, Trotz listed the inauguration of the New World, the long nights at Itabo, the long dark days of racial strife and, tongue-firmly-in-cheek, the "all conquering" New World Football team. "Those were wonderful days and they were my support group," Trotz was quoted as saying. "Those were the days when friendship and loyalty meant a lot." He added that while they drifted apart over the years, whenever their paths crossed it was as if there had never been a break in the relationship. "As I write this, marooned in the lounge in the Norman Manley airport, I feel a sense of loss and a bit of my mother comes to my eyes. I have lost a treasured friend and I grieve a lot."
The programme also featured a reading from the Bible by de Caires' son-in-law Mike Atherton and two poems. De Caires' favourite poem The Windhover was recited by Sunday Stabroek Editor Anna Benjamin and Martin Carter's Death of a Comrade by Carter's widow Phyllis. Father Malcolm Rodrigues presided over the service and also presented his reflections on de Caires' life.
Around the Web