"They throw away meh music set and start beating me in meh head with glass bottles cause I din wan turn off de song," said Farouk Hamid from his bed in the Male Open Ward at the George-town Public Hospital yesterday afternoon.
Hamid, 26, of Ann's Grove, East Coast Demerara was crying out in pain as his bed was being adjusted by a nurse yesterday. He related to Stabroek News that he was at a saloon at Bee Hive, East Coast Demerara drinking with two men when "one ah dem sey that he nah like de song playing on me music set and he tell me fuh turn it off".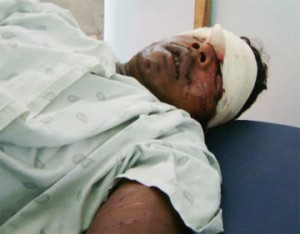 Hamid said that when he refused to turn off his CD player, the man scrambled it out of his hands, ran to the door and threw it on the road.  He stated that the other man then got up and grabbed him and when the one who had thrown the CD player into the street rejoined them, the two men picked up a glass bottle each and dealt him several blows to his head and body.
Hamid noted that when he fell to the ground, the men continued their assault and one of the men later "bruk a glass bottle and start fuh cut me all over me hands with it". He said that he soon fell unconscious in the saloon and "this morning I wake up in de hospital".
Hamid stated that he knew his attackers well – had known them for over a year and he reported the incident to a policeman who had visited him at the hospital but did not know if either of his attackers had been apprehended.
Around the Web