After his father refused to give him $200 to buy drugs, an enraged addict yesterday picked up a cutlass, chopped him about the body and sliced open the top of his head in a chilling crime that rocked Waiakabra, on the Linden-Soesdyke Highway.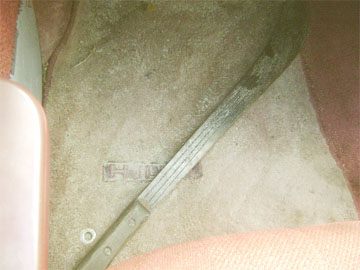 Stanislaus Gomes, 57, succumbed to his injuries just outside his home. He had no chance of surviving the gruesome attack, even with medical attention. After committing the crime, his 24-year-old son fled to the neighbours' home some two miles away, where he informed them of his action and expressed remorse. He did not put up any resistance when ranks from Timehri Police Station went to arrest him more than an hour after the incident.
In a statement, police said the incident occurred around 9 am and was sparked by Gomes's refusal to fulfil a request for $200 which was made by his son. "It is reported that the son then inflicted several chops with a cutlass to the body of Stanislaus Gomes, severing his head in the process," the release added.
The cutlass believed to have been used in the incident was also recovered by the police. Gomes and the suspect, his only child, lived on a large plot of land about a ten-minute drive from the highway, through a number of trails. There, Gomes cultivated eddoes and cash crops which he sold to earn his income. Gomes had often complained to relatives that the young man would sometimes be unwilling to help him.
Stabroek News was told that the suspect has been using drugs since his teenage years and in addition to marijuana would "smoke whatever he could get his hands on."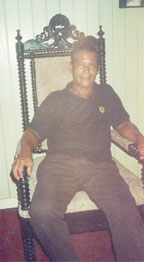 Amelia James, who lived about two miles away, was Gomes's closest neighbour. She said the son ran into their yard yesterday morning and started to tell them that he "just chap up he father." Initially, she said, they did not believe him but then he showed them the blood stained cutlass and small blood spots on his shirt.
James said the young man told them that he had asked his father for $200 to buy drugs and his father had told him, 'I ain't gon give you no money to buy drugs because you gon trip out on me.' He claimed that his father picked up a piece of wood to hit him, saying that he would call the police. According to the son, he in turn picked up a cutlass and chopped his father on his foot. He told them that his father tried to run away and he continued chopping him about the body.
James said that shortly after speaking to them, the man went and placed the cutlass in some bushes in the yard, but when the police arrived it was retrieved.
Following the young man's revelation, residents contacted his relatives who reside at Soesdyke.
Gomes's nephew, Ronald Baya, said when he arrived he met the suspect on the road and asked him for his father, but he responded "nothing." He said he spotted some blood on his cousin's jersey and said, "I hope nothing ain't wrong with your father, you know, because me and you gon get wrong." The distraught man said he drove up a bit and came across a man who confirmed that his uncle had already been killed.
Baya said he immediately turned around and went to get the police. He said that when he spoke to his cousin, he did not have a cutlass in his hand.
He recalled that he had contacted his uncle via cellular phone around 7 am and was told that his cousin was giving him some problems. Baya said he told Gomes that he would pass by later in the day to see him, but before he could do so, he got a call that his uncle had been killed.
Several of the man's relatives and friends gathered on the scene which was being overlooked by police, some of whom had travelled from the city to conduct the investigation.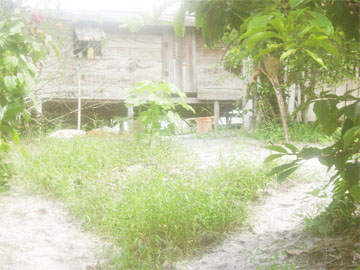 Gomes's brother-in-law burst into tears as he looked at the man's lifeless body which was on the sand not far from the staircase of his modest home. A gaping wound to the head was visible.
Police later covered it with a sheet. When this newspaper left the area, around 12.20 pm, the body was still there awaiting the Lyken's Funeral home hearse.
Persons were in total disbelief at the tragedy. Those gathered described Gomes as a nice, loving person who loved to farm. The man had been farming for most of his life.
According to another nephew, Trevor Baya, "he was one in a million, who did not deserve to die this way".
The relatives said Gomes had recently benefited from the expertise of those aboard the USS Kearsarge during its recent medical mission here. He had surgery and was recovering at the home of relatives in Soesdyke but wanted to return home. Though his relatives pleaded with him to stay, on Tuesday he returned to the place he had called home for the last eight years.
Around the Web