Former PNCR Executive James McAllister has been removed as a PNCR-1G Member of Parliament (MP), in keeping with a recommendation resulting from disciplinary proceedings against him.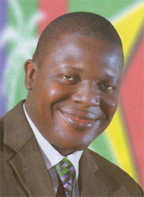 McAllister is the first MP to be officially removed from the National Assembly under controversial recall legislation that was passed by a constitutional amendment last year.  The PNCR's Disciplinary Committee suspended McAllister's membership for a year and asked him to resign as an MP following an investigation into his conduct as part of Vincent Alexander's abortive bid for the party's leadership.
Speaker of the National Assembly Ralph Ramkarran made the announcement at a members' sitting of the house yesterday. He said: "…I hereby declare the seat of the Honourable Member Mr. James McAllister to be vacant having received from the Representative of the List of the People's National Congress Reform-One Guyana, a Notice of Recall dated December 2, 2008, issued to [him], as provided for by Article 156(3) (c) of the Constitution, as amended by the Constitution (Amendment) Act 2007."
The recall legislation was passed by government with support from the main opposition PNCR-1G. The new legislation will enable representatives of parliamentary parties to ask the Speaker of the National Assembly to declare a seat vacant, on the basis that a party has lost confidence in a member. It was believed that the legislation was intended to prevent members from crossing the floor. The leadership challenge by a number of PNCR MPs was also believed to have influenced the party's decision to support the legislation, with a view towards keeping its membership in check.
After the disclosure of the Disciplinary Committee's findings, PNCR Leader Robert Corbin explained that the decision on McAllister was not solely based on his public conduct during the campaign. He said there were several other matters that concerned McAllister and several recommendations were made to this end.
For his part, McAllister has said that the sanctions against him were as a result of fundamental differences with Corbin on the true purpose of the party. "I have always fought these issues and will continue to fight them and for me, recall from parliament, one year suspension or even expulsion is a small price to pay when one is battling to ensure the supporters of the PNCR have a hope for the future," he wrote in a public letter.
Meanwhile, Ramkarran also announc-ed yesterday that former Minister of Housing and Water Harrinarine Nawbatt has tendered his resignation as an MP, with effect from November 10. He said the vacated seat would be filled by a person extracted from the PPP/C's list of candidates.
Around the Web