– residents lament the death of a tradition
The masquerade band – the main attraction in New Amsterdam that made the Christmas season "bright long ago" has died out and some elderly residents say the spirit to celebrate has fizzled.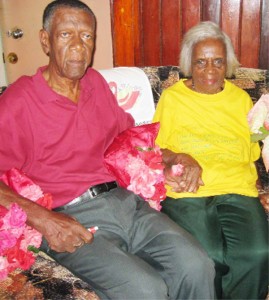 A few told Stabroek News that while caroling was also a big event at Christmastime they looked forward to being entertained by the colourfully dressed and talented members of the masquerade band.
Ivy Thom, former deputy mayor of the New Amsterdam Town Council told this newspaper that New Amsterdam used to be "alive with activities but the greatest was the masquerade band".
Ivy and her husband Donald Thom, who are both over 80 years old, recalled, "From the beginning of October we used to be in the Christmas spirit. It was lovely to see the members perform; we can't get back those days."
Mrs Thom said the band, part of the Guyanese custom, performed "from street to street. They [members] spread joy and they were always in gay spirits. I can remember the Mother Sally, the stilt dancer which we called Waxen Annie and the Mad Cow. When the cow chased us it was even more fun.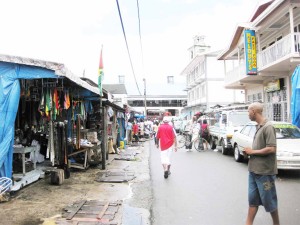 "Everything has changed since the band is not around anymore." For some time another band would travel from Georgetown to entertain the residents.
She recalled that in the early 70s, businesses like "DM Fernandes [where the Keishar's store now stands] used to throw out presents and balloons and persons in the crowd used to scramble to catch them."
She said school used to be closed for the holidays on Christmas Eve day and she did not mind one bit because at least she was spared from having to "help to clean the house."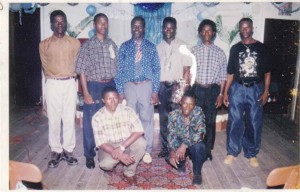 According to her the "business places were tastefully decorated" and that "Pitt Street and Main Street used to have a hive of activities."
Mrs Thom also reminisced that the manager of T Geddes Grant Limited would host a big Christmas party for over 200 children in the town along with their parents. She said "everyone pitched in and there was great help from all the departmental businesses in New Amsterdam."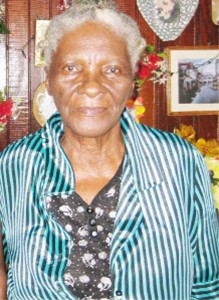 She remembered too that the staff of the then Fort Canje Hospital (now the NA Psychiatric Hospital) would be provided with the ingredients to assist with some of the cooking.
The owners of Tommy's Catering and Rita Bristol's Bakery also helped to cater for the party at their own expense. She said that one of the games the children loved was hitting the "big balls" which contained candies and when the balls broke they would run and grab the candies.
"What bothers me now is that that since I left the council in 1986 there was no party for the underprivileged children. In those days, toys were very cheap and barrels used to come from overseas with clothing, books and toys. But now things change; everything is so expensive."
Further she said, "I always feel happy when individuals entertain children especially at Christmas-time. Parties are still being hosted for children but not on a big scale as before."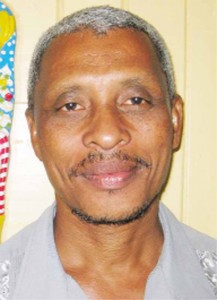 For the fifth year, she and Mr Thom, with support from their children who reside overseas, will provide presents and the music for parties hosted for over 70 children of the Sunday school.
Mr Thom who served as a Marshal of the Supreme Court told this newspaper that he also looked forward to Christmas morning when a group would come to his gate with small string bands and sing carols.
Their favourite carol, he recalled was, "Christians Awake! Salute the Happy Morn." He said he would then invite the group in the house and offer them food and money.
He said that the churches would have early morning services and by midday the families would be together for lunch which must include garlic pork and pepper-pot. On Boxing Day relatives and friends would visit each other right through to New Year's.
He enjoyed when the New Year would be ushered in at midnight with the simultaneous pealing of the church bells, blowing of horns on the steamers and with the sound of sirens from the police and fire stations and the clocks from the sugar estates.
Mr Thom remembered with a smile that the Old Year's night parties would stop before midnight and persons would "rush to church so the New Year must find them there."
'Town felt Christmassy'
Leslie Ramsarran, a resident of New Amsterdam who has been an accountant at the town council for the past 33 years said that in the past "people used to shop early and there were a lot of hustle and bustle and the town felt Christmassy."
He commented that the spending was "manageable" as persons could have done a lot of shopping, including presents for friends and relatives, paint their walls, lacquer their floors and still save money.
He recalled that as a "small boy growing up in the town" he used to enjoy looking at the decorations at stores such as Bookers (now Guyana Stores), DM Fernandes and Bata Shoe Store which included writings that were sprayed on the glass windows and looked like "snow".
"The grocery stores too used to decorate but of course they never used to take out items in front of the stores" that is quite common now.
He said shoppers had to enter the stores before they could see the "apples, grapes, walnuts, dates and other items" on display along the doorway that would only be available at Christmastime.
At the market, he said, persons would certainly get their fresh ginger for ginger beer and sorrel for the wine.
He recalled that from the beginning of November stores would start playing Christmas carols and persons would start greeting each other.
Santa Claus would also make an early arrival at the stores where it would be a big treat for children to have their pictures taken with him and receive a present for a small fee.
On Christmas Eve night the children would also hang up their stockings and be sent to bed early so 'Santa' can bring more gifts which would be opened on Christmas morning. Now, he said children cannot be fooled that Santa has brought them gifts.
Ramsarran recalled that on Christmas Eve night the stores used to be opened up to 8 pm and there was confusion as persons rushed to get their last bits of shopping done.
He said while there was "varying times" for persons to start decorating their homes it was a custom for some to complete their baking on Christmas Eve night.
There would also be a crowd of people along Pitt Street and Main Street being entertained by performances from the masquerade band.
His family would enjoy a special meal of pepper-pot and bread or curried chicken on Christmas morning. After that he said there would be "whole day eating" of the other goodies that were bought as they looked out for the masquerade band and they would retire after a light dinner.
He reminisced that "we used to stay home with the family on Christmas day and the neighbours would come over and exchange gifts."
He noted that Pitt Street consisted of a lot more businesses including Chinese and liquor restaurants, hardware and shoe stores but the landscape changed after a fire swept through the street a few years ago.
Besides, some of the businesses closed after their owners migrated. It was observed though that new business places have been erected on
the burnt out spots.
Rose's Masquerade Band
The popular masquerade band in the town was owned by the late Clement Rose, a prize-winning musician who performed at the National Cultural Centre. A member of the Fort Canje Hospital band, he was also known for his talents in playing the flute.
Rose was also a member of a cultural group and was in charge of the masquerade where he trained persons to perform in bands especially at Mashramani time.
His wife, 75-year-old Effie Rose told Stabroek News from her Vryman's Erven home last week that her husband "liked masquerade" and formed the Rose's Masquerade Band after the family moved to Mackenzie.
She said when they relocated to New Amsterdam, the band became famous for entertaining residents at Christmastime. She recalled though that at first "nobody wanted to take part in the band so he had to train five of our sons to be dancers."
The band consisted of eight dancers, the Mother Sally and the Mad Bull. Her husband was the flautist. Decked out in their colourful costumes designed by a resident, Brenda Johnson, members started their performances from 6 am and returned home around 8 pm.
After obtaining permission from the police, they flounced their way around New Amsterdam, Canje and Rose Hall. Effie recalled that residents were very receptive to that form of entertainment and would give them "food and money… and there was no racial discrimination."
She played an important role in the band and that was to "store the money. When the others get the money they would come and give it to me. Then I would come home and count it in front of them and weekend I would give them their share.
"Christmas used to be lovely. Everyone enjoyed it in those days."
Regrettably, she said, the band was dissolved after Rose got sick in 1987. For three years he arranged for another band to come from Georgetown just to keep the entertainment going.
However not all the members of that band had "good characters" and after a few started to get into trouble with residents the police stopped giving them permission to return.
Effie mentioned that the members of Rose's band were disciplined and even if residents gave them alcoholic beverages he did not allow them to drink any until they would have completed their day's activity.
"He was strict; if they [members] din have manners he would send them away. People remember him up to now when it is Christmastime. They say Mr Rose died and the masquerade died… People used to stand up on the road and dance with the band.
"I can remember the good old days and the dear old time and it can't come back. Now there is too much politics and crime and people frighten to leave their house and go anywhere.
"I don't know what happen to this generation. I does pray for them as well as the country, the President, and all the ministers."
Around the Web