-Health Minister
Minister of Health Dr Leslie Ramsammy says that there has been no deviation from the normal re-ports of illnesses in flooded areas across the country, even though there has been water accumulation in some villages for more than two weeks.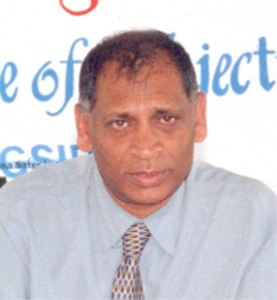 Ramsammy said that this is due in part to the fact the residents seem to be complying with health instructions, such as the use of boiled water and not dwelling in the stagnant floodwaters.
The minster told the media yesterday that permanent health teams headed by a number of doctors have been deployed to various areas.
Although there are no signs of a health crisis, Ramsammy said that his ministry is moving into the field as though there was a health crisis and operating from a worst-case scenario perspective.
Areas that have had permanent health teams deployed are Dochfour, Clonbrook, Enterprise and other East Coast communities. Health teams are also working in the Mahaicony, Abary and Mahaica rivers, Ramsammy said. The teams will remain whether there is water on the ground or not.
Ramsammy said that thus far there have been no reports of a rise in any sickness. He said that all hospitals and health clinics are required to report to the Ministry on a daily basis on the amount of persons if any, that come for treatment for diseases that are prevalent around this time. Ramsammy said that there has not been any report of anything above the baseline.
If there are any increases in medical cases of diarrhoea and the like, it is "barely a glitch above baseline," Ramsammy said.  Additionally the minister emphasized that not a single case of leptospirosis has been reported thus far, another indication that people are adhering to instructions.  Leptospirosis had claimed a number of lives in the 2005 Great Flood.
The minister is in the meantime appealing to citizens to continue being as safe as possible and to stay away from the water.
Ramsammy gave the media a rundown of some of the plans the ministry has in place for next year.
Among then are plans to pay special emphasis to suicide, which according to Ramsammy is a "major public health scourge," with 1/3 of the deaths being related to alcoholism.  Several years ago, the ministry had pledged to make this a top priority.
There are some 160 to 200 suicides. The ministry will identify the areas where suicides dominate and move in for counseling sessions.
The ministry also plans to send nutritionists into villages to teach people how to prepare food for a healthy diet using locally produced foods.
Around the Web