Residents increasingly frustrated
Rising water levels in the Dochfour housing scheme, East Coast spells continued agony for residents who have been surrounded by stagnant water for more than two weeks now.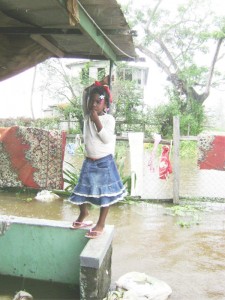 Residents reported yesterday that they were told that there was a breach in a dam behind their community and this had contributed to a water rise. This could not be confirmed  yesterday.
Chief Executive Officer (CEO) of the National Drainage and Irrigation Authority (NDIA), Lionel Wordsworth, in an invited comment yesterday told Stabroek News that engineers were in the Dochfour area addressing the drainage problem being faced by private estate owners.
Wordsworth said that the private estate owners have not been managing the drainage of their land properly and as a result Dochfour is being affected. However, the CEO assured that several engineers were working with the estate owners to address problems.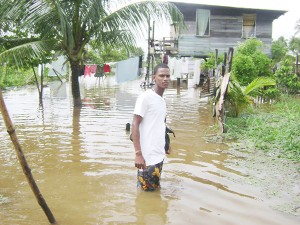 Several culverts, he said, were being installed in the estates area to further improve Dochfour's drainage. The drainage systems of Hope, Greenfield, Dochfour and the Ann's Grove area are interlinked, Wordsworth said.
But In the absence of an effective plan to drain the water off the land and end the suffering, frustration is all residents could feel, even those who are of the mind to travel to the city and protest until something is done.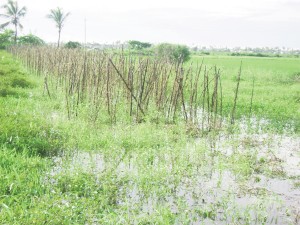 There is widespread dissatisfaction with the only visible attempt thus far to alleviate the situation: an excavator clearing the canals as of Christmas Day, and the installation of a tube to drain water into the nearby Two Friends community that is also under water. But the machine broke down a few hours after it began operating and was being repaired when Stabroek News visited the area yesterday.
With food quickly running low, a breakout of skin rashes and other infections and access to clean water becoming more difficult, Dochfour is a community in distress.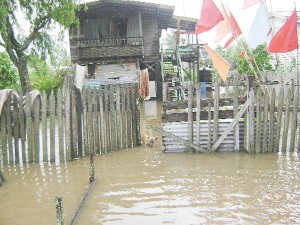 "Is why they doing this to us, forgetting that we living under these conditions and that we gon get sick…tell me they ain't know what we going through, they ain't know", asked 80-year-old Geraldine Webster. She was almost in tears.
The elderly woman, unable to walk due to a recent fall in the floodwaters, struggled with some assistance to air her concerns when she got word that Stabroek News was in the area. She asked about food items and about access to clean water while noting her concerns about the foetid condition of the water in and surrounding her home.
She charged that the authorities are merely visiting the sidelines of the community and not venturing in to get a real picture of what is happening. According to her, it is a case of people trying to fix a problem they have no real understanding of. Another one of her concerns was that children are being forced to live under such conditions.
There are suggestions on the ground that the community can be empoldered and the water subsequently pumped from the land, but others are more supportive of an idea to cut a dam and make a passage for the water to drain off. There is a general consensus that Dochfour is in crisis; hit by a disaster unlike anything they have seen.
For some nineteen days and counting the water has been on the land, yesterday it reeked of carcasses and human waste among other things. Dochfour residents abhor the fact that they have to live in it, and questioned where they could go. There has been no talk of a possible evacuation and as the days progress people are waking up to find more dead livestock. Since farming and livestock rearing is all most people do in the community the impact of the flood has been severe.
Some residents, mostly males who care to venture out of their homes, are leaving with very little on so they can dress properly when they get to the road.
"We can't dress home and leave to go anywhere, the water too high", Devon Samuels related. He was among a group that left their homes with clothes tucked under their arms yesterday morning to dress on the road.
Samuels and many others like him who do not own a boat are forced to wade through waist-high water to move around and yesterday the water was a bit higher in some sections of the community. Samuels showed this newspaper his fireside at home that has been swamped.
Stabroek News found Wavney Melville cooking in three inches of water in her kitchen yesterday; she and two others residing near her. Melville said the water has upset her daily existence.  She and her children were battling skin rashes and according to her, the dirty water which they are forced to walk through at least twice a day is posing serious health risks.
Vanessa Hart related how she is watching her cupboard with rations deplete and she has no idea yet where the money is coming from to re-stock. Some of her livestock perished in the waters and she is fighting to save the few that are left.
There is no holiday cheer in Dochfour and most people passed Christmas lamenting their problems and praying for a miracle before the year is over. They fear another week of the water, particularly as it relates to the health risks.
The Guyana Citizens Initiative (GCI) has said that Dochfour should be declared a disaster area, noting that without such a declaration, international agencies cannot be triggered to release the humanitarian assistance residents desperately need. The GCI made the call in a press release issued on Thursday, in which it also criticized government and the Civil Defence Commission (CDC) over their response to the situation at Dochfour.
Around the Web