With the Carifesta spotlight turned off, attention has now turned to Amerindian Heritage Month, which opened with a cultural programme featuring indigenous food, drink, dances and songs at the Amerindian Village at Sophia Exhibition Complex last evening.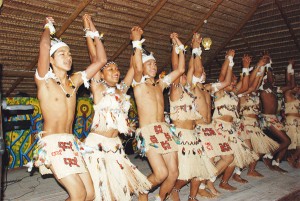 This followed a formal opening ceremony which was attended by President Bharrat Jagdeo, Prime Minister Samuel Hinds and Mrs Hinds, Amerindian Affairs Minister Pauline Sukhai, other members of cabinet, members of the diplomatic corps and many indigenous persons residing in the city.
In his address to the gathering, Jagdeo assured Guyana's first people of government's continued support and warned that with the effects of climate change, they are going to face many challenges to their way of life and this could be catastrophic.
Referring to the offer of Guyana's forest to the world to assist in the fight against climate change, Jagdeo said that the lobby has to be kept up and the best people to speak up for this are the indigenous people since "they have credibility".
The president further expounded upon the attributes of Amerindians, noting the value they place on education and their spirit of communalism. "We need to capture the spirit that has always been a way of life for the Amerindian people," he declared.
He noted that Guyana economy is growing, wealth is increasing and Amerindian communities are undergoing change. But, he noted, they have been unable to significantly alter the economic structure of the village and this has to be changed. He outlined a few projects that are being looked at including the introduction of new crops in villages far from markets.
Meanwhile, Sukhai in her address asserted that she was proud of the "quantum leap" made with regard to the sustaining of their culture. She outlined several government programmes that have assisted the indigenous people, including the Hinterland Scholarship programme stating that this year 41 students were eligible for scholarships.
She noted that this year too $50 million has been allocated for the construction of a student's hostel in Georgetown for those studying in the city and educational institutions in its environs. The minister mentioned several other programmes relating to transport, health and communication, among others.
A sad note was injected into the proceedings, when she mentioned the three students that perished in a fire at the Warmadong Secondary School on Sunday night and offered her sympathies. (See other story on this page)
The audience was treated to several performances by dancers from various Amerindian communities and messages from various Amerindian groups were also sent out.
Following the formal opening ceremony, food and drink were sold while cultural displays were held.
Amerindian Heritage month is being celebrated under the theme, 'Inspiring our nation to move forward in Unity'. A number of activities have been planned for the month-long celebration.
Comments

Allen Chastanet   CASTRIES, St. Lucia, (Reuters) – The prime minister of the small Caribbean country of St.
Dear Editor, Kindly publish my response, as follows, with regard to an anonymous letter published by the Guyana Chronicle on Wednesday, August 16, 2017, under the caption 'Will the Auditor General investigate the deputy chief elections officer?' Editor, this letter is the second deliberate attempt aimed at besmirching my integrity, obviously with clandestine objectives. 

Dawn Hastings-Williams President David Granger, today, announced that Minister within the Ministry of Communities,  Dawn Hastings-Williams will assume the portfolio of Minister of Public Affairs in the Ministry of the Presidency with effect from September 1, 2017.

Grace Mugabe   JOHANNESBURG,  (Reuters) – South African police confirmed on Wednesday that Zimbabwean first lady Grace Mugabe remained in the country and had applied for diplomatic immunity after being accused of assaulting a 20-year-old model in an upmarket Johannesburg hotel.

Daniel Craig   LONDON, (Reuters) – British actor Daniel Craig has confirmed he will reprise the role of James Bond one last time, ending months of speculation.