A new DSL Cash and Carry branch was opened yesterday on Sheriff Street by Demerara Distillers Limited (DDL).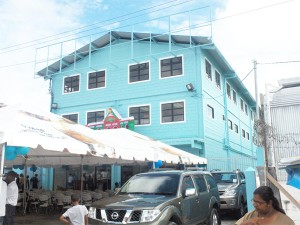 The facility, which is located at the corner of Sheriff and John Smith streets (opposite the Guyoil Service Station), cost in excess of $150M Stabroek News was told and stocks a wide range of goods including food and toiletries.  This is the fourth such branch launched by DDL, with the others being in Ruimveldt, Diamond and New Amsterdam.
DDL Marketing Director Sharda Veeren-Chand told this newspaper that this latest branch is a part of the company's attempt to expand its services.
This location was selected because it would benefit several areas in the vicinity, she explained.
And according to her, work on the project started in March of this year. Further, she said that the company hopes to open another branch next year.
During yesterday's opening ceremony, Dr. Yesu Persaud, Chairman of DDL said that this latest branch is testimony to the growth of the company over the years.
He said that the company has moved from one specializing in spirits to one also into brands.
He also explained that a Cash and Carry outlet was different from a supermarket since it sought to promote wholesale purchases.
Persaud said that there was an automatic reduction in the retail prices, if a customer purchased more than one item.  He said that this type of service has gained popularity since the company opened its first such branch in Robb Street in 1993. Although it had its challenges in this area, he explained that when the store was moved to its current Ruimveldt site, it proved to be a huge success.
Commerce Minister Manniram Prashad was also present at the opening, and saluted Persaud and DDL for this initiative.
He said that it proved that the private sector was doing well in spite of the challenging circumstances.
This, he said, proved that businesses were doing fairly well in Guyana in spite of the global financial crisis.
The Minister also saluted the company for its sterling contribution to the business environment in Guyana, mentioning that its involvement in the Institute of Private Enterprise Develop-ment (IPED), has served the nation well.
Comments

Grace Mugabe   HARARE,  (Reuters) – Zimbabwe's first lady Grace Mugabe returned from South Africa early today, state media reported, after a 20-year-old model accused her of assault in an upmarket Johannesburg hotel room.

Michael Bhopaul, 16, doesn't know if he is this year's best performer at    the Caribbean Secondary Examination Certificate (CSEC) Examinations, but with preliminary results showing that he has obtained passes in 25 subjects, he will be hard to top.

Inmates at the Lusignan Prison turned over 33 improvised weapons yesterday morning to prison authorities, who say that they also apologised to the prison staff for the unrest at the facility on Friday night.

Well known Berbice attorney Chandra Sohan was arrested on Friday after he allegedly struck a pedestrian in a hit and run accident along the Williamsburg Public Road.

For a little more than an hour yesterday, the streets outside the Mackenzie Market rang with the voices of dozens of Linden residents who turned out to support a march against homosexuality.