By Calvin Roberts
Mark Linehan, Chief Executive Officer (CEO) of telecommunications giants Digicel, yesterday told the Golden Jaguars that they could defeat Suriname when the two teams meet in the return fixture of their second round 2010 World Cup clash at the Guyana National Stadium, Providence, tomorrow.
"You can do it on Sunday. You are the stars of the Caribbean at the moment based on your performance in the last Caribbean Cup competition. When you step out onto the field on Sunday, all of Guyana and Guyanese from all the over the world will be rallying around you as you take on the Surinamese."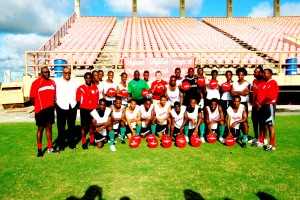 Linehan, took time out from his daily chores to pay a visit to the team who were going through their preparation for the return clash against Suriname on Sunday.
"I must let you know also that all of Digicel Guyana Limited will be behind you and we want to urge you to put your best foot forward and come away with the win. You are playing at home, on your home ground in front of your people who will be rallying around you and what better way to say thanks to them than coming away with a well deserved victory."
He further added "Put the performance and the defeat in the first game behind you. Start from scratch and show Suriname that you are superior to them as you make your way to South Africa 2010, thus making your country proud."
In an invited comment, Linehan told Stabroek Sport that Digicel is really proud to be a part of the Golden Jaguars.
"We are very proud to be a part of the Golden Jaguars during their journey to South Africa 2010. We are looking forward to a very exciting performance in the game on Sunday. We believe in them we know that they will go to the next level of the
competition."
He continued to state "We at Digicel will be rooting for them as well as all the people of Guyana for a positive result come Sunday."
Guyana will face Suriname from 1530hrs (3:30pm) on Sunday at the National Stadium and Guyanese attending the game are asked to wear gold or yellow in admirable and strong support of the Jaguars who must win by two clear goals in order to advance to the next round.
Around the Web