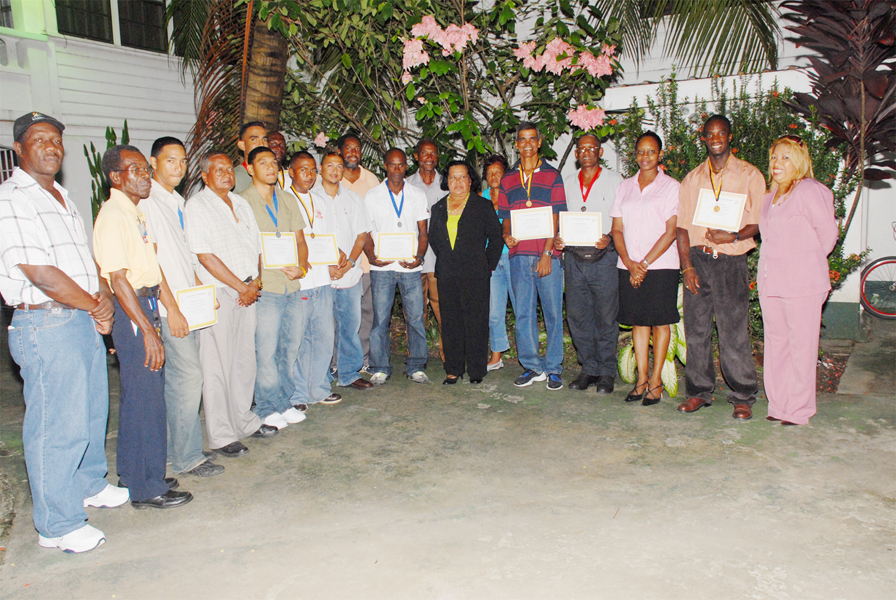 By Calvin Roberts
The national road race champions on Tuesday night received their awards from the Guyana Cycling Federation (GCF) at a simple presentation ceremony at the office of the Guyana Olympic Association (GOA).
Prior to the presentation of certificates and medals, GCF president Hector Edwards thanked the cyclists, cycling federation executives and the media for a job well done in ensuring that the championships was a success while at the same time promising to make next year's event a bigger one.
"I want to thank my executives for the hard work they put in, the GCF racing committee and the cyclists for without whom there would not have been an event. "The media also played an important part with their publication and I must extend my gratitude to them on behalf of the GCF," said Edwards.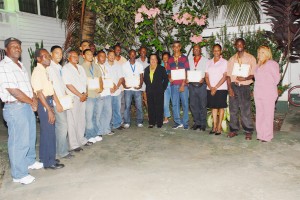 "At this year's championships, we included the time trials for the juniors as they would be contesting this event at the Junior Caribbean Championships in Trinidad later this month along with some road races, thus we wanted to get them in tune with same prior to going there," Edwards added.
Edwards, himself a former national cycling champion, also told the cyclists and other invitees including second vice president of the GCF Clive Profitt, secretary Carmen Pertab and racing secretary and national cycling coach Hassan Mohammed that they should not look forward to winning every event they entered as defeat was always lurking around the corner.
"Even though you are all champions in your own right, you should not look forward to winning every event you enter as defeat is always lurking around the corner. Don't make excuses when you lose, but rather take some time and reflect on your performance and try to figure out where you went wrong so that you don't make it again."
He continued:" However, I must congratulate you on your performance this year and to the winners I extend my heartfelt congratulations to you, whilst those who were not successful, I say better luck next time."
He also urged those who were selected to represent Guyana in international cycling events this year to do so proudly, while at the same time reminding them that it  was not only themselves they were representing, but their country, club and coaches on the whole.
Following his speech, the respective winners were presented with a certificate and a medal by Pertab, Profitt and Malcolm Soonaram who are all executives of the GCF.
Aubrey Greavsande won the veterans over-50 category with Montgomery Parris and Compton Persaud, second and third respectively. The under-50 category was won by Berbician Gary Benjamin who out sprinted defending champion Kennard Lovell at the line. Ian 'Dumb Boy' Jackson finished third in this category.
Another Berbician and Benjamin's club mate, 14-year-old Neil Reece, won the junior category from Geron Williams and defending champion Christopher Holder respectively while Lindener John Charles out sprinted Alonzo Greaves and Darren Allen in that order to claim the senior title.
The presentation of jerseys will take place at a later date as the printing has not yet been completed and Mohammed offered his apologies.
Around the Web