The government of Guyana yesterday awarded  Guyana  and West Indies cricketer Shivnarine Chanderpaul with a general  award within the  Order of  Service of Guyana.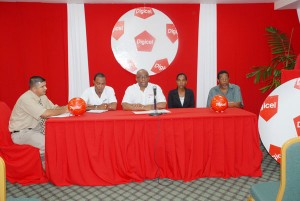 According to a release from the Office of the President yesterday, Chanderpaul was given the Golden Arrow of Achievement (A.A)  one of three awards within the Order of Service.
Awards in the Order of Service rank third behind the Order of Excellence which is the country's highest award and the Order of Roraima.
Following is the release: "His Excellency Bharrat Jagdeo, President of the Republic of Guyana, Commander-in-Chief of the Armed Forces of Guyana and Chancellor of the Orders of Guyana, is pleased to appoint Shivnarine Chanderpaul as a member of the Order of Service of Guyana and has awarded him the Golden Arrow of Achievement for "his consistently outstanding performances as a cricketer, especially as a batsman, at the national, regional and international levels."
Comments

Guyana Amazon Warriors left a packed house heartbroken after folding to the Jamaican Tallawahs by two runs in a thrilling final over, as they began their home leg of this year's Caribbean Premier league (CPL) with a school boyish display, last evening at the Guyana National Stadium, Providence.

DUBAI, England, CMC – Reigning champions West Indies Under-19s will be part of history, when they kick off their title defence of the ICC Youth World Cup (YWC) against hosts New Zealand Under-19s.

Guyana ended their Group-F campaign in the CONCACAF Boys U15 Championship on a winning note, edging St.

BIRMINGHAM, England, CMC – A day that started brightly ended in typical uncertainty for West Indies, after Alastair Cook and Joe Root plundered hundreds to give England an early hold on the historic first Test on Thursday.
BASSETERRE, St. Kitts, CMC – A strong all-round performance from Javeor Royal propelled Jamaica Under-19s to a four-wicket victory over ICC Americas Under-19s in the Regional One-day youth tournament on Thursday.