– led by CABA gold medallist Mandessa Moses
Guyana's female Pan-American boxing hopefuls will wing out this Sunday for neighbouring Trinidad and Tobago where they will be involved in fistic battles against Caribbean and other opponents at the women's Pan American boxing championships.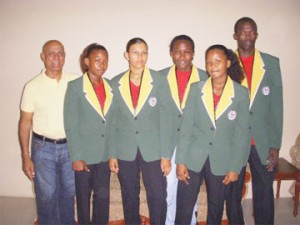 The four females will be led by lightweight Mandessa Moses who brought back gold when the Guyana team participated in the Caribbean Amateur Boxing Association (CABA) meet in July. The others are Ansilla Norville, flyweight, Alicia Marques, junior welterweight and bantamweight Amanda Charles.
James Walcott will serve as coach.
Guyana Amateur Boxing Association (GABA) president Affeeze Khan said yesterday that he has a lot of hope that Moses will bring back gold while the other girls should take pages out of her book and try to emulate her performance.
The team which is expected to spend almost two weeks in Trinidad, will get into action on October 1 with the curtain coming down on the competition on October 8.
Speaking to Stabroek Sport, Khan said that he was confident that the girls would medal.
Meanwhile, last Sunday the team was presented with their official Guyana blazers which display the colours of the Guyana flag.
The blazers, according to Khan, were acquired through the kind support from corporate citizens George Humphrey, Suresh Sabnani, Maurice Rajkumar, Amar Ali and Shamdas Kirpilani.
Khan is hoping that other sports organizations can take a page out of GABA's book  and have their athletes properly attired when they leave these shores as official representatives of Guyana.
The boxers, according to Khan, have been going through their paces twice daily under the watchful eyes of James Walcott from the Harpy Eagles Boxing Gym in Albouystown.
Around the Web