The Demerara Cricket Club (DCC) yesterday received a timely boost for its team when the Middle Street Plaza came on board with a donation of uniforms.
The uniforms, valued at $G250, 000 were presented by cricket enthusiast Salim Paul who is also the managing director of Middle Street Plaza.
The soft spoken Paul had only a few words for the team: "Keep up the winning ways."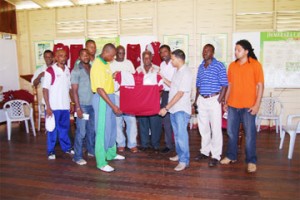 President of the club, Alfred Mentore, in accepting the uniforms stated that… "the uniforms came at a time when the first division team is creating waves by playing unbeaten for the season."
The uniforms presented by Paul will deck out the first division team.
Mentore added that the club has played unbeaten not only in the first division but in the second division season so far.
"So it is with a great deal of pride and satisfaction that I accept these uniforms," he said.
Meanwhile, DCC, coming off a last ball thriller last weekend, has found its way into the Neal and Massy National limited overs tournament final.
They are also well placed in the Pepsi Guyana Cricket Association (GCA) limited overs competition with back-to-back wins.
And, in the second division, the GCA Beharry Cup, DCC are one of the semi-finalists.
Mentore in an earlier release to the media had stated that the new DCC board which was elected in February this year, had made the decision to seek public financing in order to carry the club forward.
Around the Web