Rock solid!
That's how Guyana's Clevon Rock was on day three of the third junior Commonwealth Games championships in Pune, India.
The Guyanese turned in a fine display to defeat Nigeria's Sarafadeen Shittu winning 7-2 on points.
The win sent Rock on to the semi-finals and guaranteed him of at least a bronze medal.
Guyana's Herlando Allicock lost yesterday morning local time to Zack Davies of Wales 22-3.
Allicock lost the first round 0-5, the second 0-9, the third 1-3 and the final round 2-5.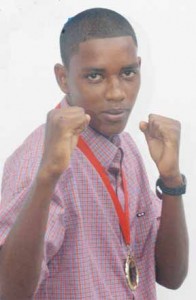 Rock comes up against Scotland's Josh Taylor in the semi-finals which takes place at 6am today.
In the two previous games held in Edinburgh, Scotland 2000 and Bendingo, Australia 2004 Guyana did not medal.
Rock had a sensational start to the tournament when he knocked out Kenya's Kingstone Otieno in 0:46 seconds of the first round.
Against Shittu, the Guyanese won a close first round 2:1 but upped the tempo in the second round taking it 4:1.
Round three saw a close contest but no fighter managed to score while in the final round, Rock made sure he followed his corner's advice and etched out a 1:0 round.
Referee Alvin Finch of England subsequently announced the fight in favour of Rock by a 7:2 margin.
Shittu had earlier gotten the better of Solomon Islands' Mark Galo Apai who was saved by the referee 0:31 seconds into the third round after trailing 1:8 after the first two rounds.
Rock's opponent in the semi-final, Taylor got through his first two fights by way of massive points win. In his first fight against Sri Lankan Milindu Abeyasingha, Taylor won by a 16:3 score and he defeated Xolani Mpushe from Republic of South Africa in the quarter-final round 13:1.
Around the Web