– play set for Diwali Day
The Malteenoes Sports Club (MSC) will on Tuesday (Diwali Day)  bowl off the Ansa McAl-sponsored Sixes competition featuring nine first-class teams, including two from Berbice.
The competition, which was launched on Wednesday at the club's Thomas Lands pavilion, will see eight matches being played among defending champions Demerara Cricket Club (DCC), Georgetown Cricket Club (GCC), Transport Sports Club (TSC), Police, Guyana Defence Force, Guyana National Industrial Corporation (GNIC), hosts Malteenoes Sports Club, Young Warriors and Rose Hall Town.
DCC defeated Young Warriors in last year's final.
According to Arron Fraser, this year the competition has been increased from eight to nine teams and the prize money by sixty percent.
The prize money put up by Ansa McAl to the tune of $130,000 will be distributed among the winners and runners up with $60,000 and a Trophy Stall trophy going to the winning team  and $40,000 and another Trophy Stall trophy going to the losing finalist.
The player of the tournament will walk away with $20,000 and the player of the finals $10,000.
The tournament, which will be played with white balls and coloured clothing, will be run under the MSC rules.
The tournament will bowl off at 8:00hrs  and according to vice president of the club, Neil Barry, Ansa McAl will have two specially marked off parts of the boundaries where the score will be doubled if the ball is hit there.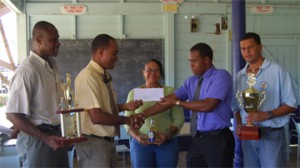 In such a scenario,  if a four or six is hit the score will be registered as eight or twelve.
Meanwhile, club member Sean Devers added that some of Guyana's best cricketers will be on show with the likes of the latest West Indies selectee Leon Johnson, Christopher Barnwell, Steven Jacobs, Paul Wintz, Gajanand Singh, the Crandon brothers and Assad Fudadin, among others.
Sponsors' representative Nigel Worrell said his company was pleased to be associated with the competition adding that he expected that it will be a grand day for the family.
Around the Web