In sweltering heat at the Everest Cricket Club the Canadians surrendered meekly to a better-prepared Leeward Islands team in their opening President's Cup limited overs encounter.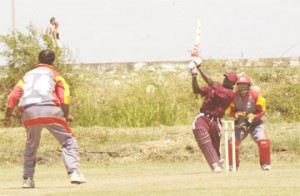 Canada, who won the toss and elected to field, were probably kicking themselves after the Islanders piled on the pressure thanks to Austin Richards Jr. who stroked a masterful 141.
Richards Jr.,  who opened the batting with Keiron Powell, raised the team's 50  in 10.2 overs as both openers waded into the Canadian opening bowlers Umar Bhatti and to a lesser extent Henry Osinde.
Captain Sunil Dhaniram was forced to ring the changes with Harvir Bhaidwan and Karun Jethi replacing the duo.
Powell was eventually deceived by a slower ball from Baidwan and was caught by Abdool Samad for 22.
Leewards' skipper Runako Morton entered was lucky to survive a confident lbw shout first ball.
He and Richards Jr., then set about mauling the hapless Canadians who could only watch and wait.
The two batsmen put on 174 runs for the second wicket before Morton, looking to hit the ball out of the ground, was deceived by Jhetti and stumped for a 59-ball,  72 which was studded with five fours and one six.
In between Richards Jr., brought up his 50 off 52 balls with seven fours and two sixes.
Richards Jr., was eventually bowled by Jethi for 141 decorated with 14 fours and five sixes from 113 deliveries.
Leewards finally closed on 367-4 with Omari Banks unbeaten on 75 with eight fours and three sixes. Tonito Willett chipped in with a run-a-ball 23 while Wilden Cornwall was unbeaten on 19 with four fours.
Jethi captured 2-50 and Baidwan 2-68.
In reply, the Canadians were quickly in trouble as Sandeep Jyoti was bowled by the lively Chad Hampson for a second ball duck with the score on three.
Makeshift opener Ashif Mulla and Qaiser Ali went about rebuilding the innings taking the score to 56 before Ali, suffering from a groin strain, retired hurt on 41.
Asif Mulla who was out for 13 caught by substitute Shane Jeffers off Banks and Zubin Surkari was out in the next over to Willett lbw for one.
In the next over Abdool Samad was out caught by Justin Athanaze for duck.
Dhaniram was joined by Ali who resumed his innings this time with Samad as a runner but after looking comfortable, Ali was out caught by Anthony Martin off the persistent young pacer Gavin Tonge for a well played 52 which contained six fours.
Dhaniram and Karun Jethi added another 33 runs before Jethi was out for a well played 18.
Dhaniram fell for 44 which included six fours.
Bhatti and Baidwan added exactly 50 runs for the eighth wicket as Canada ended on 183-7.
Baidwan stroked six fours and was unbeaten on 38 with Bhatti not out on 11.
Bowling for the Leewards, Banks grabbed 2-24 while Tonge, Hampson, Cornwall, Willett and Anthanaze picked up a wicket apiece.
Richards Jr., was adjudged man of the match for his majestic 141.
Around the Web