By Rawle Toney
Known as the 'Hammer', defending champions Alpha United are aiming for back-to-back titles when the 19th annual Kashif and Shanghai football tournament kicks off this week-end in Linden.
The club recently won its third premier league title and fifth tournament of the year solidifying its claim as one of the top clubs in Guyana.
Coach of the 'Hammer', Wayne "Wiggy" Dover in a recent interview with Stabroek Sport said that even though his side has achieved a lot this year, winning Guyana's most prestigious football tournament remained high on their agenda.
He added that given the fact that the tournament included some of the country's top football clubs, to come out on top would show that Alpha United meant business.
"We have been working very hard and will continue to work hard to reap more success but our players always look forward to the Kashif and Shanghai tournament more since they get a chance play against teams outside of the city," said the dreadlocked coach.
He was not ignorant of the fact that all the other teams will enter the tournament with the same plan as theirs and he named a few teams he felt could give his side trouble.
"Of course there is Bakewell Topp XX whom we defeated in the final last year. They are always strong competitors and are never counted out from winning the title. But I feel the team to watch this year is Sunburst Camptown. The team this year showed every one what hard work can do and they are continuing to work hard and they will have very good players as well. So if I'm to say who will be our fiercest challengers, it will be Bakewell Topp XX of Linden and Sunburst Camptown," said Dover.
The team will be boosted like every other team in the tournament with guest players.
Each club will be allowed to choose four players who are not part of the club to strengthen their side.
As such Dover said that national defender Howard Lowe will return this year since he said the player who plays semi-professionally in Trinidad and Tobago has become part of the Alpha family ever since he first featured with the side in 2006.
Apart from Lowe, defender Kelvin Smith and goal-keeper Sean Johnson, who also plays in Trinidad, will be part of the squad.
The fourth person remains a mystery.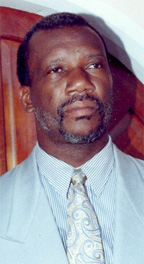 The club's president Odinga Lumumba boastfully said that his side eyes are all set on claiming the $1M trophy and to stake a second claim on the lien trophy.
Alpha United will open its title defence on December 21 at the Buxton Community Center Ground against Cougars of New Amsterdam.
Even though little is known of their opponents, Dover said they will be playing as if it was a final since they are not taking any team too lightly.
"The fact that they are in the tournament means that they had to be very good so myself along with the players know that we will have to play hard every game because we are the defending champions and it's harder to stay at the top than reaching there," he explained.
Around the Web