By Rawle Toney
It is never questionable whenever someone says that Bakewell Topp XX is the most decorated team in the Kashif and Shanghai tournament since it began.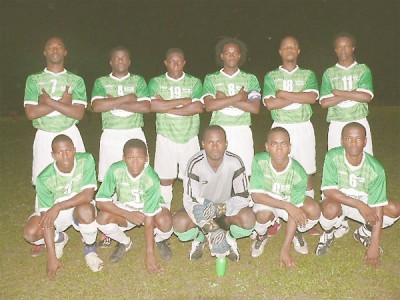 The team from Linden has won the championship five times and has played eight times in the final.
Topp XX's first lien on the trophy was in the 1994 tournament when they defeated fellow Linden side Milerock in the final. In 1996, they toppled city side Pele to win their second title and then they won back-to-back titles in 1999 and 2000.
The side missed out in the 2001 and 2002 tournaments and returned in 2003 to win over Camptown in the final.
A controversial semi-final loss to Fruta Conquerors kept them out of the 2004 final which the latter went on to win.
In 2005, they defeated Alpha United but lost the following year to Joe Public of Trinidad and Tobago 1-0 and then to Alpha United in similar fashion in 2007.
However, the going could be a bit tough for the Linden top club this time around when they square off against Rusal on the tournament's opening night, Sunday, December 14 at the Mackenzie Sports Club ground in Linden.
According to team manager Lincoln Zephyr, eight players will be returning home to strengthen the team. He explained that given the fact that only four will be allowed to play as loan players, the other four players will be taking transfers from their clubs in Trinidad to play for the Bakewell-sponsored team.
Fortunately for Topp XX, all eight players have outstanding records playing for the national team.
Leading the list is one of Guyana's most prolific strikers, Collie "Hit Man" Hercules. Add national mid-fielder Kayode McKinnon, goal keeper Richard Reynolds and defender Cary Harris, all of whom will feature in the side as loan players and you get the picture.
The players who will be returning as full fledged team members are Kevin Beaton, Kwesi Johnson, Selwyn Isaacs and Javin Crawford.
But the big question is, will these players have a chance to  feature in the customary green and white uniforms since they will not be available until after the first match against the bauxite company side?
The last time the two sides met this year, Rusal narrowly thumped the side to win the final of the Linden Town Week tournament.
But Zephyr was adamant that things will be different this time around.
He said that his side has been working hard and unlike all the other Linden teams, they have featured in all of the country's top tournaments this year although they have been booted in the quarter-final stages.
"We are working hard and will continue to work hard since we have a reputation to upkeep. We have a young squad right now – the guys understand the importance of the match coming up and we are not going to take any time lightly," said the team manager.
He added that they were even more pumped up since it was no easy task being one of the top club's in Linden and the Kashif and Shanghai tournament.
Asked which were some of the clubs that were capable of providing trouble for the five-time champions should they get past the first match, Zephyr of course pointed to the city teams since he says they have been playing more football than the Linden clubs.
"Of course there is Alpha United whose success this year speaks for itself. We and them always have a score to settle and then there is Camptown who this year played some very good football and has improved tremendously. But we think we have a great chance this year again."   
Comments

Guyana Amazon Warriors left a packed house heartbroken after folding to the Jamaican Tallawahs by two runs in a thrilling final over, as they began their home leg of this year's Caribbean Premier league (CPL) with a school boyish display, last evening at the Guyana National Stadium, Providence.

DUBAI, England, CMC – Reigning champions West Indies Under-19s will be part of history, when they kick off their title defence of the ICC Youth World Cup (YWC) against hosts New Zealand Under-19s.

Guyana ended their Group-F campaign in the CONCACAF Boys U15 Championship on a winning note, edging St.

BIRMINGHAM, England, CMC – A day that started brightly ended in typical uncertainty for West Indies, after Alastair Cook and Joe Root plundered hundreds to give England an early hold on the historic first Test on Thursday.
BASSETERRE, St. Kitts, CMC – A strong all-round performance from Javeor Royal propelled Jamaica Under-19s to a four-wicket victory over ICC Americas Under-19s in the Regional One-day youth tournament on Thursday.