By Rawle Toney
Five-time champions Bakewell Topp XX successfully began their quest to win a sixth Kashif and Shanghai title while city team Pele got on course for their first title when the 19th  edition of the tournament opened Sunday last in Linden.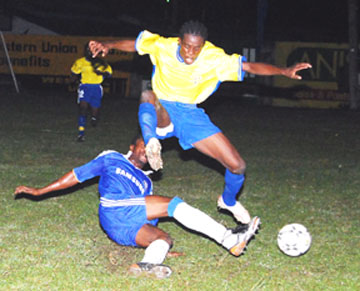 Playing at the Mackenzie Sports Club ground, Topp XX defeated RUSAL 2-1 while Pele scored a historic 1-0 victory over Milerock in  this tournament.
Despite looking a bit lacklustre in the initial stages of the game, Topp XX were able to stop several good chances by the bauxite team who won their previous encounter.
But by far the Bakewell-sponsored team was the better side featuring national striker Collie `Hitman' Hercules,  national midfielder Kayode McKinnon, defender Cary Harris and national custodian Richard Reynolds.
But even with some of the better players in the country, they had to pull out all the stops as RUSAL came out with guns blazing.
Topp XX would have to thank their goalkeeper for the excellent work between the uprights as he frequently bailed them out after the  RUSAL strikers began attacking at will.
At the end of the first half the score was 0-0   with both teams evenly sharing possession  of the ball.
Upon resumption, Topp XX played with much more purpose as they attacked RUSAL's goal with Hercules leading the way. The  tactic paid off in the 61st minute with  Harris scoring the go ahead goal.
However, the lead was shortlived, as RUSAL,  still in an aggressive mode equalized through former national player Travis Waterton in the 70th minute.
Both teams then intensified the pace of the game as they battled back and forth.
But Topp XX are no strangers to this type of pressure and with less than a minute remaining,  captain Kayode McKinnon was able to capture a loose ball in front of RUSAL's goal and he made no mistake in ensuring that his side would move on to the next round.
After the game, Topp XX's coach Michael McKinnon said that he was confident of victory since his team was more     experienced.
"I was never nervous because I know that my team has what it takes to overcome RUSAL. I know that we seemed a bit scrappy at the starting of the game, but that was because the overseas players (Collie Hercules, Kayode McKinnon and Richard Reynolds) only came in a day before. But we will be going back to the drawing board and try to correct our mistakes," said McKinnon.
Topp XX will now face the winner of Mahaica/K Brans match on Boxing Day (December 26) at the MSC ground in Linden.
In the second game of the evening Pele, who over the years have had a bad track record in winning games in Linden, beat the tournament's first champions Milerock.
Milerock came into the game booming with confidence since Pele had never defeated them in two previous encounters.
National midfielder Konata Manning was a stalwart in the middle for Pele and his distribution of the ball was on target to the strikers throughout the night. However, they squandered several opportunities with striker Travis "Zorro" Grant responsible for missing most of their chances.
Pele's captain Dirk Archer scored the lone goal of the game in the 31st  minute and afterwards Milerock fell back into an all defensive game.
After the game, Pele's coach Denzil Thompson said that he was satisfied with his team's performance since they stuck to the game plan and executed well despite missing numerous scoring opportunities.
"My team never took into consideration the fact that we lost to this team (Milerock) the last two times we met. What we did was look at it from the perspective that we want this Kashif and Shanghai tournament.
"We got what we came for and that was a win.  I know the margin of victory could have been wider and we will try to correct that since scoring goals is what football is all about actually, so now we will be back in preparation for our next and we will treat it like if it's our first," said Thompson.
Pele will face the winner between the Alpha/New Amsterdam Cougars match on Christmas Day at the national stadium.
Stabroek Sport was informed that national captain Charles "Lily" Pollard will be part of Pele's squad for that match along with national striker Gregory  "Jackie Chan" Richardson.
Around the Web