Sudesh Fitzgerald yesterday left for England to participate in the Ladbrokes.com World Darts Championship on Sunday.
The competition will see the 'New kid on the block' taking on South African Charles Losper at 2.15pm London time. In an interview with Stabroek Sport, a confident Fitzgerald said that he had no prior knowledge about his opponent but was looking to take him out in the first round. He said he does not know whether he will be meeting any of the top five players in the earlier rounds but no matter whom it is "I am ready to take them on and defeat them." This is Fitzgerald's first world championship and his first such lucrative tournament.
The Bryden Invitational Tournament, Caribbean/South American Masters propelled Fitzgerald onto the world stage. It was used as the criterion for selecting the lone representative from South America and the Caribbean to take part in the championship.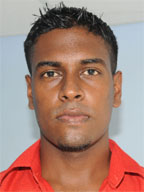 In the championships Fitzgerald got the better of his more senior compatriot Norman Madhoo in the semi-finals with a score of four games to three. In the finals he defeated Mark Cummins by four games to two.
The Ladbroke.com championship opens on Friday and is played in a first to five out of nine games round. Fitzgerald will have his plate full in London as he competes with defending champion John Part, 13-time World Champion and World Number One Phil Taylor and two-time champion Dennis Priestley. Defending champion Part will open the tournament against American Bill Davis while Taylor will launch his run for a 14th title on Saturday against qualifier Steve Grubb.
The 740,000 pounds competition is being played at the Alexandra Palace in London at 7.10pm London time. The winner will walk away with 100,000 pounds; runner-up, 50,000 pounds; semi-final losers 22,500 pounds; quarter-finals losers 15,000 pounds; round three losers 10,500 pounds; round two losers 7,000 pounds, round one losers 4,000 pounds and preliminary round losers 2,500 pounds. Provision has also been made for the Nine-Dart finish; any player who obtains a perfect nine-dart finish during the Championships will receive 20,000 pounds.
If more than one player achieves this, the sum will be distributed equally regardless of the number of occasions each player achieves the feat.
Some 38 pairs have being listed to play in the preliminary round. The tournament will be played on a knockout basis from the first round.
Meanwhile, a number of sponsors assisted Fitzgerald's participation in the tournament. The Bryden Company sponsored his ticket at a cost of $400,00 and Granny's Sports Bar donated more than $100,000 to subsidize the cost of accommodation, meal and travelling expenses.
The tournament ends on January 4.
Around the Web