Just like every other cricketer in the Caribbean, national all-rounder Christopher Barnwell has his sights set on wearing the maroon cap one day, to honour his uncle, the late national opening batsman Andrew Lyght.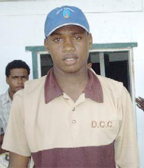 Barnwell said though he comes from a football background; both his father and uncle are past national players who represented Guyana well; he chose to play cricket in memory of his uncle. "He never got the opportunity to play for the West Indies team, so it is my goal to do so on his behalf. The way people talk about him and how he was a very good batsman, I think that if I should represent the West Indies team, he would be proud of me," the youngster said.
Prior to his April 2001 death, Lyght was a hard-hitting opening batsman for both the Demerara Cricket Club (DCC) and Guyana. He averaged 32 from 38 first class matches, where he amassed 2112 runs with six centuries and a highest score of 122. Twenty-one-year-old Barnwell told Stabroek Sport that his most memorable moment in cricket to date, was when he was selected for the senior team for the just-concluded West Indies Cricket Board (WICB) President's Cup limited overs competition held here last month.
"Being selected in the 14-man squad, was a dream come through for me, as it took me one step closer to realizing my overall dream of donning the maroon cap of the West Indies team. My aim was to make the final 11 in every game, and having done so, achieve impressive performances," he said.
Barnwell said too his performance in the WICB/TCL Under-19 competition was not up to standard and he "decided that when I get back home, I will work on my game with my goal of making the West Indies team."
He made his limited overs debut in Guyana's first game against the Combined Campuses and Colleges, where he failed to pick up any wickets, but scored an impressive 51 that was decorated with four fours and one six.
"In that innings, I was looking to get a bigger total, after I failed to pick up any wickets with the ball. I normally use my bowling as a confidence booster for my batting and during that innings, even though it was not one of a bigger total, I was really feeling confident, as I started on the right foot in terms of my aspirations for the tournament," he said.
The lad also recalled telling this newspaper that he wanted to excel and help to win the game for Guyana as well as being numbered among the top all-rounders in the tournament.
"But I had a real bad tournament and Guyana did not even make it to the final four so this time around, I would be giving it my all to ensure that we come out on top at the end of the 12th round of the four-day championship," he said.
He added: "Once I get the chance to play all the games, I would like to score within the vicinity of 400 to 500 runs with the bat while at the same time, snare 25-30 wickets with my bowling. At the moment, I am feeling confident and I know that once I apply myself, I can achieve my goals in not only cricket, but life in the whole."
When asked about his performance in the Stanford Twenty20 competition held in February last, the young cricketer was quick to express his delight at not only being a member of the team, but also making the final 11 but was disappointed when Guyana fell at the semi-final hurdle to Jamaica. "Any young cricketer from Guyana would have been delighted to be a member of that team even if they did not make the final 11. A look at the impact the first result made on the lives of the players alone, spoke volume as cricketers were all aspiring to make the team," he said.
"I must consider myself fortunate enough to have done so, whilst at the same time, express my disappointment at the semi final loss to Jamaica whom we defeated in the quarter-finals before, for I knew that once we had made it to the final, no one was going to stop us from repeating as champions," he added.
Barnwell said though he has replayed the game many times over in his mind and has wondered about decisions made he now knows what is required of him as an all-rounder and he intends to use this knowledge to help Guyana win the four-day competition.
The youngster, who will celebrate his 22nd birthday on January 6, said he would consider a first round victory for Guyana over the Windward Islands in Grenada a perfect birthday present.
Around the Web