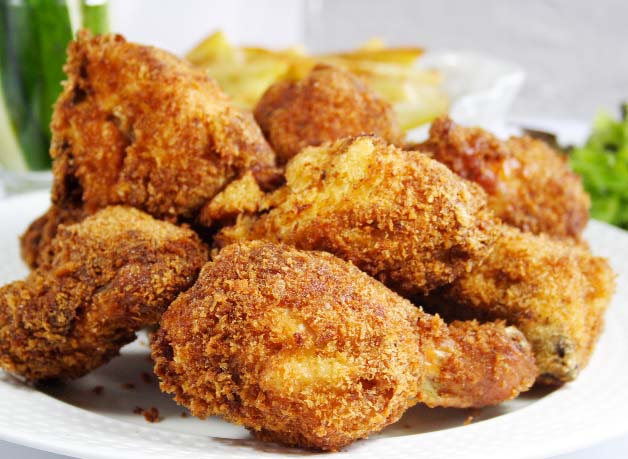 By Cynthia Nelson
Hi Everyone,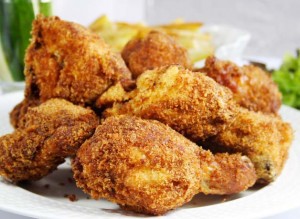 Do you remember that there was a time in Guyana when chicken and chips used to be known as 'Chicken in de Ruff'? Where it all began and how the name came about is uncertain, those who know have probably migrated with that knowledge or passed to the great beyond.
As I prepared for this column, I spent some time thinking about this special Guyanese phrase… 'Chicken in de ruff' – did we call it Chicken in de Ruff because the crust was rough and rustic, you know, where the chicken is battered and dusted so much that you cannot make out which part of the chicken you have in front of you until you bite into it? Or was it because the crust was so well crusted that it gently bruised your mouth as you bit into it? Either way, I am convinced that it had to do with the crust – its appearance and texture.
I remember that Brown Betty was well-known for its 'Chicken in de Ruff' as well as its chocolate ice cream. There were many other food outlets which, though not as well established as Brown Betty, would still sell you a nice 'Chicken in de Ruff'. At these establishments "Chicken in de Ruff" would be boldly painted on the side of the shop door. Ah, those were the days before Kentucky Fried Chicken (KFC), Royal Castle, Church's Chicken etc. The main competition for 'Chicken in de Ruff' was Demico's Chicken and Chips but then again, that was for a different texture of fried chicken.
I wonder if we Guyanese gave our own 'Chicken in de Ruff' a backward glance when KFC first opened in Guyana. Do you remember the first outlet at Stabroek Square? Do you remember the crowds and long queues? Guyanese went crazy for KFC but most people, were demanding the hot and spicy instead of the original. I bet, rather I know, it's the rough, spicy, crunchy exterior that we were after. Maybe our desire for the spicy KFC showed that we still wanted our own flavourful 'Chicken in de Ruff', but we were powerless to resist the carefully crafted marketing tactics of the North American franchises. I dunno. I do know, however that, like many people I love chicken and chips.
Chicken and chips is one of those combos that is just meant to be, it's as if the heavens ordained the union. The main attraction of course is the chicken, with the chips playing an important supporting role. The dinner rolls and biscuits can be cast aside but the chips? Are you crazy? Though I love chicken and chips I rarely have it these days. Growing up however, that was a totally different thing, when I started working, I'd eat chicken and chips every weekend, it was the Friday thing to do.
When I started travelling the Caribbean I remember also that I always insisted that my first meal should be the chicken and chips from whichever place the locals considered to be the best. Back in the early 80s there was a small chain called Sunday Basket in Trinidad & Tobago, man I loved their stuff. In Barbados you couldn't go wrong with the fried chicken from The Pink Star on Baxter's Road or Fred's on Baxter's Road (their fried fish and fired pork chops were great too, but that's another column).
There are some things that are best made to be eaten at home and then there are those things that are best made to be eaten outside the home and I think that chicken and chips is right up there with those things best made to be eaten outside the home. However, I found that whenever mommy made 'Chicken in de Ruff' and chips at home it was always such a treat!
Sure it tasted different but there was something about the ability to create this meal at home that made it a sure-fire hit. My Auntie Betty used to make a nice homemade 'Chicken in de Ruff' too. I say used to because she doesn't cook much these days. What I liked about her fried chicken is that the pieces would always be cut smaller and seasoned with garlic and thyme, I distantly remember the flavour of thyme. Man, we'd eat the meat, gnaw at the bones and then chew them up.
This week I felt like having homemade fried chicken and so I made my own version of 'Chicken in de Ruff'. I wanted the outside to be brown, crisp, crunchy and tasty and I wanted the inside of the chicken to be equally tasty and moist – after all, one of the benefits of breading something is that it can be cooked aggressively on the outside and yet be tender on the inside. So I seasoned my chicken, the egg-milk wash and the bread crumbs for consistency. For the breadcrumbs I used the Japanese version, Panko which is a coarser breadcrumb and stays crunchy longer but you can certainly use your preferred breadcrumbs.
As a cook, the visual and textural results were pleasing but the proof would have had to be in the eating and I am happy to report that my two taste-testers gave my 'Chicken in de Ruff' a perfect score. You should try it. Email me and I'll send you the recipe.
Have a great weekend!
Cynthia
tasteslikehome@gmail.com
www.tasteslikehome.org
Around the Web