By Cynthia Nelson
Hi Everyone, remember the old television show Green Acres? Arguably the biggest star on the show was Arnold the pig. He could write his name, change channels on television, play piano and even predict the weather. Despite all of those talents, if he came to the Caribbean he might still find himself facing the butcher. We love pig – ham, chops, ribs, bacon, sausages. From snout to trotter we eat it all.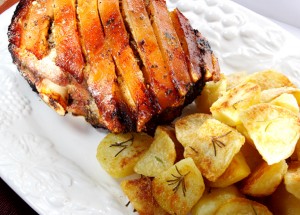 Don't get me wrong, there are many people who don't eat pork, often for religious reasons. But when you hear some folks say, "I gine fuh a piece of Arnold," know that they're going to tuck into some nice tasting pork.
A very good Barbadian friend of mine is migrating to the United States and as a gift I've offered to make a variety of meals for her – to give her some memorable tastes of home. One of the things she asked me to cook for her was roast pork with roast potatoes. As I set about prepping the meat, I found myself saying, "This is a proper piece of pork."
Anyone living in Barbados knows the slogan, "Proper Pork" it is a catchy slogan and tag line created by Andrew Bynoe, former senator and owner of two of Barbados' larger supermarkets. This campaign was so effective that it not only raised the profile of 'the other white meat' but also increased production as a result of sales demand. I think it is safe to say that Barbadians are a pork-loving people. Pork is such a big deal here that there are now advertisements for Pork Limes during Crop Over season (for those non-Caribbean people, "lime" is our name for a party or get together); at Christmas there are special booths set up to sell exclusively pork products, from ham to bacon to fresh meat. This year there is even a popular song titled "Pork Mout" about how much Bajans love pork.
Weekend street-food in Barbados would not be the same if we didn't have pork spare ribs or fried pork chops. Before moving to Barbados I had eaten pork in a variety of ways, but never fried. My friend Susan invited me one evening to experience this Bajan treat. We pulled up at a vendor who had set up operations outside his home. The line stretched all the way into the road with people constantly bracing themselves against the concrete wall as traffic passed by. The smells coming from the cooking station made the wait tortuous. As we got close to the front of the line we found out that we'd have to wait a while longer as the pork chops were being sold faster than they could be cooked! Finally, we got our pork chops and headed to the car. They were hot and delicious. I had heat from the cooking temperature as well as heat from the pepper sauce I had drizzled on mine. I have not had a fried pork chop since, but only because I'm not sure my arteries could take it.
Nevertheless, I like pork. I enjoy a good roast pork with its juicy white meat and crisp skin, or baked pork where the meat literally falls off the bone, and what about ham. I swear we make some of the best tasting ham in the Caribbean. One year I spent Christmas in the United States and I bought a ham to bake just like I do at home. That ham smelt great as it was baking, but when it came to eating I could only manage one slice. The ham was salty and lacked the Caribbean flavour I have obviously grown accustomed to. For that entire holiday I felt something was missing, and indeed it was –ham. I longed for some Caribbean ham.
You know what I really miss a lot? Curried pork. Sure I can buy fresh pork here and curry it but it's not exactly the same. I want the pork that one would buy at Mon Repos Market, where the pork skin is roasted, charred in some places. The smokiness from the fire roasting flavours the meat as well. The curry should be bounjal (dry curry); and I want it with, not only the meat, but bits of the skin cooked in to add even more flavour. Some hot white rice, pepper sauce or achar and if you insist, then alright, some dhal too.
Arnold, you are loved dearly.
Cynthia
tasteslikehome@gmail.com
www.tasteslikehome.org
Around the Web