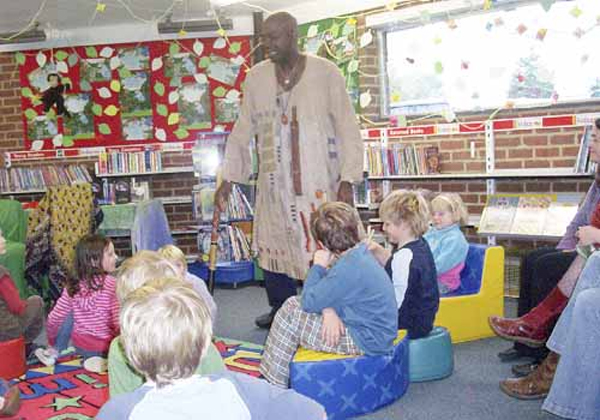 Keith Waithe's passion for music and cross-cultural relationships has seen the birth of the Buxton Fusion, which features Waithe on flute backed by local musicians on traditional African and Indian instruments. The band's best known and liked piece is "Sohani Raat".
"Who exactly is Keith Waithe?" was the question posed by this reporter to the man who is widely acknowledged as the best flute player that Guyana has ever produced. After a pause and presenting some brief insight into his life, he then said. "I am somebody who is passionate about music".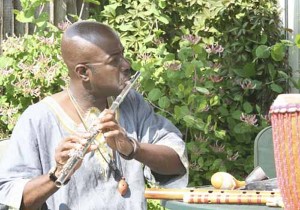 His passion for music coupled with hard work has driven him to be a highly acclaimed flautist. And although determining the best in any discipline is often subjective, few people who have heard Keith play would say that this accolade is misplaced. Supremely gifted, he is capable of doing some incredible things with the flute.
Interestingly though, Keith never really had a desire to play the flute. Growing up, he used to play the trumpet under the guidance of his late father, and his love for playing this instrument caused him to apply to join the Guyana Police Force band. He said that at the time he applied, the band only had a vacancy for a flautist. He had no interest in playing the flute, but later decided to give it a try. Since then, there has been no looking back for him.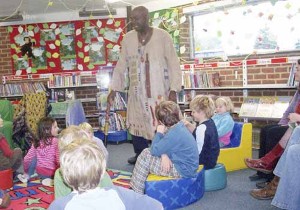 Keith fell in love with the flute and was awarded the British Council Scholarship in 1973 to study at the Royal Military School of Music in England. He said it was his stint at this institution that had the most significant impact on his flute playing. While a student there, his instructor told him that he needed to change his lip formation if he wanted to become a great flute player. This piece of advice jolted him into action and he said that he worked diligently at making the necessary changes. His hard work was rewarded with tremendous success thereafter.
After spending 18 months at that institution, he returned home and continued his flute playing. And after a few years, he migrated to London in 1977 and has been living there since. He told The Scene that about 15 years ago he started his own music organisation known as Essequibo Music. This umbrella organisation oversees the group Keith Waithe and the Macusi players. This group represents a cross-section of artistes from different places in the world including musicians from the Caribbean, West Africa and India. As a group they travel all across London and the world and perform at festivals and concerts. They also try to pass on their knowledge through conducting master classes and other workshops.
This group is the further fulfillment of one of his dreams to bring the different races and cultures together.
He said: "I passionately believe in supporting cross-cultural relationships". Since his introduction to music, he has been doing this. And whenever he is in Guyana, he teams up with the group known as Buxton Fusion, which comprises Afro and Indo Guyanese musicians who play traditional African and Indian instruments.
Keith Waithe's involvement in the organisation Essequibo Music has earned him particular acclaim as a director and an educator. He said that one of the major aims of his organisation is to teach and to positively influence young people as well as to help people, on the whole, develop an appreciation for different cultures.
The accomplished musician came to Guyana to be part of the recently concluded Carifesta X festivities. He was delighted to be part of event and added that his involvement this year presented him with feelings of nostalgia since he has participated in the first two festivals in 1972 and 1976. He described this year's event as a "highly successful festival" and said he was pleased with the response the event received from other countries. The highlight for him was his performance with the Surinamese drum and percussion group at the Carifesta Opening Ceremony.
He recounted his participation in the first two Carifesta's with a sense of glee. In 1972, he was part of the band "Triveni"- which means "Out of Many Rivers One". This group, he said, comprised some amazing artistes such as Donna Ramsammy, Marlyn Hall, Phillip Mc Intosh, and Malcolm Hall. He was also a member of the Guyana Quintet, which featured Roy Geddes (steel pan), Keith Joseph (string bass), Etwaru Kishore (table), Massilall (sitar) and himself on the flute.
Four years later, he was once again part of Triveni, which had travelled to Jamaica to be part of the 1976 Carifesta activities. He said that both festivals have left him with many positive memories. Consequently, he believes that Carifesta is vital for the development of the arts in the region. He feels that the festival is in need of serious resources-both financial and human. He said that more persons with experience in the arts need to be involved in the management of the event. Moreover, he believes that Carifesta desperately needs to see more financial sponsorship if it is going to be maintained.
Although music is a vital part of his life, it does not consume him. And he says he enjoys every moment of his life. One of his hobbies is flute collecting, and he does have an impressive repertoire, which numbers 178. But, while he is proud of this collection, these flutes are not for mere decoration since he also plays them.
Keith is currently married to Jan Parnell. He is also the father of four children, all of whom are actively involved in the performing arts. This, he feels, is no coincidence since he is certain that they were all influenced by his life.
He is a regular visitor to Guyana, and says that until his mother's death last year, he would come home every year. He says that although he resides overseas he still has a heart for Guyana and is committed to helping in its development. Such commitment is admirable but more so when it comes from one of Guyana's very best. (alistair23@yahoo.com)
Around the Web