Hi Everyone,
Though it is a traditional Barbadian Christmas dish, it does not make an appearance on feast-laden tables throughout the island. There are a few households that still make Jug Jug at Christmas, often as a reminder of what they grew up eating as part of the Christmas-day meal.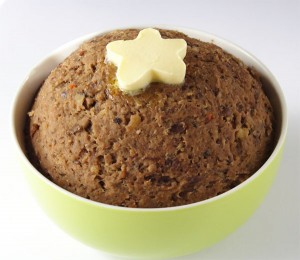 My friend Gwen says, "People are not into making ole time food" and unfortunately, that is exactly where Jug Jug finds itself, in the ole-time-food category. While shopping for one of the key ingredients to this dish, guinea corn flour, I asked the clerk stocking the shelf with the said corn flour, whether or not I should purchase a small or large packet to make jug. She looked at me, laughed aloud and then said that she had no idea as she has never eaten Jug Jug much less made it. But she was eager to help and so she stopped one of her colleagues who was passing by and repeated my question. The other clerk wrinkled her nose and said, "I don't know. People still make Jug Jug?!" I was not surprised by either response but I felt a little sad that here was another Caribbean dish that would rapidly be wiped from our collective memories, another piece of our culinary heritage lost. This realization made it even important for me to document something about Jug Jug and to share the recipe that was given to me by my friends Gwen and Marie. They've been making Jug Jug for most of their lives.
Jug Jug is not an attractive-looking dish and might get passed over on the holiday table where there is usually more fancy fare that is as tasty as it is good looking. My research did not yield any results as to the origins of this dish. Most people who know about Jug Jug simply state that they just grew up having it at Christmas time. My calculated deduction suggests that it may have been something that home-cooks here in Barbados created out of a need long ago to use up bits and scraps of meat that might have been left over from the holiday feasting. Fresh pigeon peas, another key ingredient, would have been abundant around Christmas time as well, so putting the excess to use by making Jug Jug would have been a delicious way to combine the ingredients. The technique used at the last stage of making the dish suggests some borrowing from the way in which cornmeal Cou Cou is made, that is, by cooking the entire mixture in water infused with the silkiness of okra.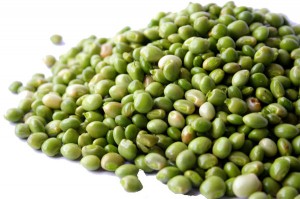 Like most dishes, each cook has his or her own recipe that best suits their taste. I've looked at other recipes and noticed that none used okra except the recipe that Gwen and Marie shared with me. Let me hasten to explain. The okra was used exclusively for its silkiness – it was boiled in water and then removed, the silky water is then used to cook the guinea corn flour and the peas and meat mixture. The okra itself is discarded. I thought that this was a great idea given that the peas have a tendency to dry out. Cooking the peas and meat mixture in the okra-infused water gave it a certain creaminess.
The other areas where recipes varied had to do with the state of the peas. While all called for pigeon peas, some stated fresh pigeon peas, others dried pigeon peas rehydrated. Today of course we have the option of also choosing canned pigeon peas to cut down on the cooking time. Texture also varies according to taste, some like Jug Jug to be soft, kind of mushy while others prefer it to be as firm as cornmeal Cou Cou.
Prior to this week, I have had Jug Jug twice and on both occasions I was intrigued, I was curious as to what exactly went into the making of the dish. Both times the textures were different – one firm, the other soft. In one case, fresh pigeon peas were used and in the other, canned pigeon peas. The distinction between the two had to do with the peas. I noticed that the Jug Jug made with the canned pigeon peas had more moisture and I think that that was because the peas would have been soaking in a brine until drained and rinsed before use. The pigeon peas flavour was also a little muted. The fresh pigeon peas Jug Jug had that fresh peas flavour. The recipe I used to make Jug Jug for this column required dried-rehydrated pigeon peas. The peas flavour was definitely present and I liked the creaminess of the peas once cooked.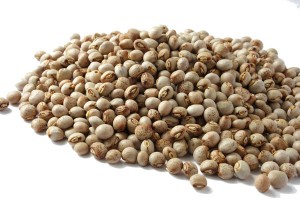 Jug Jug is meant to be eaten as a side dish, much like stuffing, and not in large amounts at one sitting.
This is Gwen and Marie's recipe. I came up with the quantities using all my little food knowledge to discern what 'a little of this' meant and what 'some of that' meant. I invite you to give the recipe a try and let me know what you think of it.
Jug Jug
Yield: 4 cups
Ingredients
1 cup dried pigeon peas soaked overnight (will yield 2 cups)
2 tablespoons oil, divided equally
¾ cup diced onions
3 tablespoons chopped herbs (mixture of your choice)
Minced hot pepper to taste
¼ lb salt beef, soaked in boiling water overnight and cut into chunks
5 cups water
¼ lb minced beef
¼ lb cooked ham, cut into chunks
Salt to taste
2 okra, sliced
1 ½ tablespoon guinea corn flour
2 tablespoon butter, divided equally
Equipment
1 pressure cooker
1 food processor or mortar & pestle
1 shallow frying pan
1 large pot and cover
1 slotted spoon
1 whisk
1 bowl
Method
Heat 1 tablespoon oil in pressure cooker
Add onions and sauté until the onions are translucent
Add herbs and hot pepper and sauté for 1 minute
Add drained peas and salt beef and stir. Sauté for 1 – 2 minutes
Add 4 cups water, and stir. Cover and close pressure cooker and cook for 30 minutes (time starts at the first whistle)
Meanwhile, heat the remaining tablespoon oil in frying pan
Add minced beef and sauté, season with salt and pepper to taste
When the peas are cooked, strain, reserving cooking liquid
Add drained peas to food processor along with ham and minced beef. Pulse until it becomes a paste; do not let it get completely smooth, you want it to have a little texture
Add the reserved cooking liquid and some of the remaining water to measure a cup of liquid, to the pot along with the okra. Cover and bring to a boil on medium heat for about 4 minutes
Remove pot from heat and using a slotted spoon, remove okra
Return pot to stove and turn heat to low or simmer, whisk in the guinea corn flour stirring constantly until the liquid has been absorbed and to ensure there are no lumps. The mixture should swell, this will take about 4 – 5 minutes (ensure that the heat is very low)
Add peas and meat mixture to the pot and stir to mix and incorporate fully. With heat still on low, let cook for 7 – 10 minutes
Stir in 1 tablespoon butter
Transfer the mixture to a bowl, smooth the top, add the remaining tablespoon of butter in the center and let it melt over the hot Jug Jug
Serve as a side dish
Cynthia
[email protected]
www.tasteslikehome.org
Around the Web